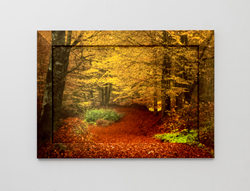 (PRWEB) September 15, 2015
ColorPath was featured on NewsWatch as part of its monthly AppWatch, which takes a look at the latest and coolest applications on the market for iOS, Android, and Windows. Joe Toohey, the host of AppWatch and technology expert, conducted the app review and shared with viewers how these frames take unique twist to picture frames.
Photos capture those isolated moments in life that people want to hold and cherish for a lifetime. But every now and then a photo is taken that deserves to be displayed. People could go with the typical frame for a photo but what about doing something a little different?
ColorPath has created a new printing process where they take a printed photo and form it into a 3-dimensional framed picture. Its wild the depth this brings to the photo. It's art in itself. The framed photos are extremely lightweight, warp-resistant and are made from 20% reclaim material that's completely recyclable.
The 3-dimensional photos are offered in two styles that can be displayed either as wall art or as a tabletop. The wall art can be hung with damage free wall strips. The photos can be printed in a number of sizes true to the digital size it was taken in. The best photo to choose for this unique framing process is one where you have captured plenty of the surroundings for the frame. The price for ColorPath's 3-dimensional picture and frame varies depending on the size. They go from as cheap as $45 up to $155.
To learn more, visit http://www.colorpath.com today.
About NewsWatch
NewsWatch is a weekly 30-minute consumer oriented television show that airs on the Discovery Channel and ION Network. NewsWatch regularly features top technology products and services, mobile applications for iOS, Android, and Windows devices, unique and beautiful travel destinations around the world, health and medical tips, and entertainment interviews on the show. NewsWatch airs on the Discovery Channel at 7:00 – 7:30 AM ET/PT.
NewsWatch is located in the greater Washington, DC area and has been on air for over 25 years. For more information or to watch the most recent episode, visit http://newswatchtv.com/appwatch.html.