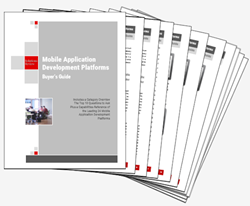 Solutions Review for MADP provides all the info you need in order to make informed and appropriate decision for your organization.
Woburn, MA (PRWEB) September 15, 2015
Solutions Review has announced the release of their latest technology news and information website for Enterprise Mobile Application Development. The new site with updated features and lay out presents best practices and news regarding both enterprise Mobile Application Development Platforms (MADP) and Enterprise Mobile Application Developers.
For those visiting the site and looking to purchase a solution or service for mobile application development within their organization, Solutions Review offers detailed Enterprise Buyers Guides for both Mobile Application Development Platforms and Mobile Application Developers, which outline and present the best options in the market. Each Solutions Review Buyers Guide provides detailed profiles of the leading providers in their respective category. For those actively looking to purchase a solution or service, the Buyer's Guides also provide market overviews as well as ten questions you should consider asking yourself and possible providers helping in finding the right solutions for the end user's needs.
"Whether you know it or not, you will eventually have at least one business or enterprise app, which means that you will need to start wrapping your head around how best to build and implement them," says Solutions Review Editor and author of the new Buyer's Guides, Elizabeth O'Dowd. "When developing and enterprise app, you have two choices on how to go about it: The first is hiring a developer from an agency who will build your app. The other option is buying a mobile app development platform and hiring your own developer as part of your IT staff. What you decide to do depends on how many apps you're planning on developing and if you want to bring on another full-time employee."
"Having and creating a good Enterprise Mobile App goes far beyond the security benefits; it's the usability that makes these apps necessary. The level of efficiency enterprise apps will give your employees a smoother way of communicating, but all of the time spent making adjustments jumping from device to device will be gone. Your employees will be able to work on their desktops all day, then pick up a tablet, walk across the building and pick up exactly where they left off."
Mobile Application Development Platform providers included in the guide are:
Adobe AIR, Alpha Software, Appcelerator, Appery.io, Dojo, DSI, Firebase, IBM, July Solutions, Kony, Marmalade, Microsoft, MicroStragey, MobileSmith, PegaSystems, PhoneGap, RedHat, RhoMobile, QT, Salesforce, Sencha, Usablenet, Verivo, Xamarin
Mobile Application Developers included in the guide are:
Intersog, WillowTree, LeewayHertz, Small Planet Digital, Intellectsoft, July, Digital Brand Group, Softeq, Gelden Gekko, Mubaloo, Fuzz, Fueld
As enterprise mobile applications continue to become the norm for companies of all sizes Solutions Review for Mobile Application Development will act as a leading resource for those individuals looking to understand their solutions/service options. Solutions Review will be the leading source for all things platform and developer related and will also offer many best practice articles including interviews, contributed and original content to help you choose between a developer and a platform.