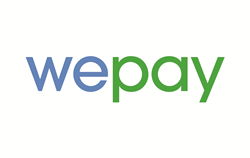 At a time when commerce increasingly flows through online platforms, we're delighted to lead our category in offering more customer-friendly ways to get paid...
Redwood City, CA (PRWEB) September 16, 2015
WePay, the leading provider of payments as a service for online platforms including GoFundMe, Care.com and FreshBooks, today announced it has introduced ACH bank transfers as another payment type that platforms can offer their customers.
The launch means platforms can now allow US users the ability to accept simple yet highly secure ACH bank transfers in addition to credit card payments. This is particularly beneficial for high dollar transactions, from the purchase of home remodels to fine art, when buyers seek to spend above their credit card limits and sellers seek to reduce transaction fees.
WePay's key competitors in platform payments do not offer ACH bank transfers as a standard payment option for end customers even though upwards of 90% of US households hold funds in bank accounts.
"At a time when commerce increasingly flows through online platforms, we're delighted to lead our category in offering more customer-friendly ways to get paid," said Karen White, VP of Product at WePay. "We're particularly excited to see this launch help customers conduct larger transactions within their platforms like never before. This is good for everyone."
WePay's ACH bank transfer option is immediately available to all platform customers. Those platforms that use WePay's standard embedded checkout experience, also known as an iframe checkout, will now see a new "Pay with Bank" option. Those platforms that have integrated WePay code into custom checkout experiences will simply need to refresh their implementations to include the additional payment type.
End users who wish to make payments directly from their accounts with most major banks will be able to do so through a simple integration unlocked by online banking log-in. Additionally, users have the option to manually enter their account and routing numbers, and then authenticate via a series of micro-deposits.
"We see the introduction of ACH payments as a huge benefit to our customers," said Steve Dugger, Executive Vice President of Operations at BuilderTREND, a cloud-based construction management platform. "This is not just an additional payment method - it's one that is ideally suited for the economics in our industry, and will likely help our builder and subcontractor customers get paid faster compared to more traditional invoicing."
WePay with this launch extends its best-in-class risk and regulatory protections to ACH transactions, while still delivering seamlessly integrated checkout experiences for platforms.
ACH is an abbreviation for Automated Clearing House. It is an electronic network employed by US financial institutions to batch and move funds from one bank account to another, thereby allowing organizations and individuals the ability to pay and receive funds efficiently via their banks. According to industry group National Automated Clearing House Association (NACHA), more than $40 trillion annually is moved via ACH.
About WePay
WePay is the payments partner to the platform economy. It processes billions annually for platforms including GoFundMe, Meetup, Care.com, FreshBooks, and Constant Contact. WePay protects its partners from risk and regulatory exposure while supporting seamless payments experiences for their end-users. The company was named to the Inc. 500 list in 2015 as 62nd fastest-growing private company. For more information, visit http://www.wepay.com.