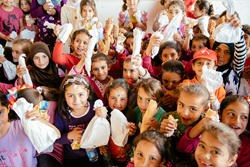 Applying a resilience approach can empower people to recover from this crisis, build better lives and transform their communities for good.
Beirut, Lebanon (PRWEB) September 15, 2015
People usually think of resilience in the context of natural disasters—how families cope with the aftermath of an earthquake or how communities adapt to increasing cycles of drought. But the next generation of resilience thinking is about adapting and applying the lessons from recurring disasters to conflict-related crises. A new case study by the global organization Mercy Corps applies a resilience framework to assess and analyze the Syrian refugee crisis in Lebanon, and documents approaches that meet the needs of refugee and Lebanese populations while at the same time addressing the fundamental causes of conflict.
"Stabilization & Resilience in Protracted, Politically Induced Emergencies", jointly produced by the United Nations Development Programme and Mercy Corps, examines the basis for a resilience approach to the crisis in Lebanon. Of the 4 million Syrians who have fled their homeland, almost half have crossed into neighboring Lebanon since 2011, which has become home to the world's largest per capita refugee population. Although the needs of the Syrian refugees are great, the political, economic and social shocks on the Lebanese population – and the country's already overstretched infrastructure – cannot be overlooked.
"In applying a resilience approach to the situation, we can see opportunities for reducing drivers of conflict and instability over the long term," says George Antoun, Mercy Corps' country director in Lebanon. "These transformative efforts include promoting and practicing more inclusive decision making within communities, more equitable access to resources such as schools and healthcare, and transparent mechanisms to address legitimate public grievances."
Given the potential for politically induced emergencies to spill over into neighboring regions, these regions must be bolstered to help the people displaced by fighting and the communities and institutions they rely on for shelter and assistance. In turn, this support can help build stronger relationships between disparate groups and help prevent violence from spreading further, according to Mercy Corps.
"Applying a resilience approach to the Syrian refugee crisis in Lebanon can empower people to recover from this crisis, build better lives and transform their communities for good," says Antoun. Download or read the full report here.