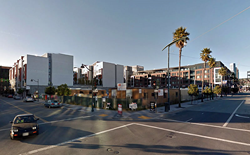 "Mission Bay is the perfect intersection between veterans and families to restore a sense of community," said Leon Winston, Chief Operating Officer and Housing Director at Swords to Plowshares.
San Francisco, California (PRWEB) September 15, 2015
Swords to Plowshares, a San Francisco-based veteran service agency, has been given the greenlight to move forward on developing an affordable permanent housing site in the city's Mission Bay neighborhood.
A joint venture with the Chinatown Community Development Center (CCDC), the site will house 50 homeless veterans and 50 low-income families earning up to 60 percent of the area median Income, with on-site supportive services for residents. The San Francisco Office of Community Investment & Infrastructure selected the proposal in August.
The project is slated to break ground by early 2017, with the building ready for occupancy by the end of 2018. Located at 1150 3rd Street between Mission Rock and Long Bridge, the site's preliminary plans include three building wings and a central courtyard with a terraced garden.
"A big part of our mission is to provide veterans with a sense of community at our housing sites, and Mission Bay is the perfect intersection between veterans and families to restore that community," said Leon Winston, Chief Operating Officer and Housing Director at Swords to Plowshares.
A redevelopment project 10 years in the making, the site was designated by the city of San Francisco for affordable housing parcels. With building costs estimated $50 to $60 million, funding will come from local, state, federal and private sources, including low-income housing tax credits and funds available through the Veterans Housing and Homeless Prevention Program. The firm of Leddy Maytum Stacy Architects will be in charge of design.
Having provided housing services to Bay Area veterans since 1987, Swords to Plowshares currently operates 346 permanent housing units at four sites, aimed to meet the needs of the most vulnerable veterans: those with disabilities, mental illness, age-related illnesses and substance abuse.
"In 2013, Chinatown Community Development Center and Swords to Plowshares completed the construction of Veterans Common, which now provides permanent housing and on-site supportive services to 75 formerly homeless veterans with disabilities. The project has been a great success and we now look forward to working on the Mission Bay project with Swords to Plowshare to bring more housing to veterans and their families," said Rev. Norman Fong, CCDC Executive Director.
About Swords to Plowshares
Founded in 1974, Swords to Plowshares is a community-based not-for-profit organization that provides counseling and case management, employment and training, housing and legal assistance to homeless and low-income veterans in the San Francisco Bay Area. Swords to Plowshares promotes and protects the rights of veterans through advocacy, public education, and partnerships with local, state and national entities. Learn more about the work of Swords to Plowshares, and ways in which you can help, by visiting our website at http://www.stp-sf.org.
About Chinatown Community Development Center
Founded in 1977, Chinatown Community Development Center's (Chinatown CDC) goal is to build affordable housing, develop grassroots leadership, and empower low-income residents and youth for civic engagement in San Francisco. Chinatown CDC own and/or manage 25 properties in San Francisco, totaling 2,500 units of affordable housing for nearly 3,000 low-income seniors, formerly homeless adults, and families. Chinatown CDC's residents are diverse and speak 14 languages including English, Chinese, Tagalog, Spanish, Russian, and Vietnamese.
###