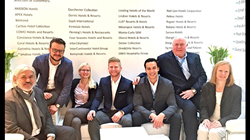 Implementing Serenata NetHotel CRM raises the bar on the five-star luxury travel experience the Trump Hotel Collection is known for.
(PRWEB) September 16, 2015
Trump Hotel Collection, a leader in the luxury hotel segment, has always been at the forefront of innovation, consistently elevating the guest experience. The Trump brand is synonymous with the highest quality products and services, delivered with a sense of style and ultimate uniqueness. Nathan Crisp, Vice President of Revenue Management & Distribution, was looking for a technology partner that would align with Trump Hotel Collection's commitment to offering world class solutions: "Trump Hotel Collection is known as a leader in the luxury travel industry. We selected Serenata as our CRM partner to deliver the integrated, seamless solutions required to meet Trump's unwavering standard of excellence."
In order to provide an enhanced, targeted and personalized experience the TRUMP CARD loyalty program desired, Mr. Crisp and his team sought a robust guest profile that could provide every associate who interacted with guests the available information on stay patterns, spending, special requests, promotional communications and reviews. Trump Hotel Collection partnered with Serenata to implement its centralized customer relationship management (CRM) system NetHotel.
"Implementing the Serenata NetHotel CRM allows our hotels to further enhance each guest's experience, and assists our staff to deliver a personalized experience that continually raises the bar on the five-star luxury travel experience worldwide," shared Nathan Crisp.
At the core of NetHotel's sophisticated solution reside transaction level integrations to all guest related systems including the PMS (Property Management Systems) and CRS (Central Reservation System), marketing initiatives and guest reviews. Serenata developed an elegant dashboard that at the click of an icon seamlessly displays all guest interactions. Marketing initiatives can now be tailored and targeted at a very granular level. Campaign results are easily tracked and included in the profile information. Guest communications are dynamic and customized to their interests. At each step of the experience the system is designed to recognize and anticipate the guests' behaviors and needs.
"Serenata is gratified and humbled to be selected by Trump Hotel Collection as their CRM solutions provider. Knowing that the Trump brand aligns itself only with best in class products and services, confirms our leading position in the CRM space. Working with the most exciting brands around the globe is a truly rewarding experience and a great motivation for the entire Serenata team." said Dieter Dirnberger, president of Serenata.
"This partnership with Trump Hotel Collection enhances the Serenata brand and offers strong support for our continued growth in the U.S. marketplace," added Reza Bahadi, VP Americas.
About Serenata:
Serenata IntraWare, Inc. is one of the leading providers of electronic marketing and CRM solutions for the hospitality industry. Our products Serenata @mail® and Serenata NetHotel® will help you maximize sales and profits. As a strategic partner we can assist you in reducing operational cost and in integrating CRM into your existing PMS and CRS landscape. To learn more about our innovative solutions for the hospitality industry visit http://www.serenata.com
About TRUMP HOTEL COLLECTION™
Launched in October 2007, TRUMP HOTEL COLLECTION™is the next generation of luxury hospitality – one that is raising the bar in the top-tier travel experience with a level of customized service unrivaled in the market today. Presided over by internationally renowned developer Donald J. Trump and his three grown children – Donald Jr., Ivanka and Eric – the prestigious portfolio includes the highly acclaimed Trump International Hotel & Tower® New York, Trump International Hotel & Tower® Chicago, Trump International Hotel™ Las Vegas, Trump International Hotel™ Waikiki Beach Walk®, Trump SoHo® New York, Trump Ocean Club® International Hotel & Tower Panama, Trump International Hotel & Tower Toronto®, and Trump National Doral® Miami. Trump International Hotel & Tower® Baku will open in June 2015. Trump® Hotel Rio de Janeiro, Trump International® Hotel & Tower Vancouver and Trump® International Hotel, Washington, D.C., a redevelopment of the historic Old Post Office Building, are slated to open in 2016. Reservations can be made at http://www.TRUMPHOTELCOLLECTION.com or by calling (855) TRUMP-00 (878-6700). TRUMP HOTEL COLLECTION is headquartered at Trump Tower, 725 Fifth Avenue, New York, NY 10022. Connect with TRUMP HOTEL COLLECTION on its social media pages.