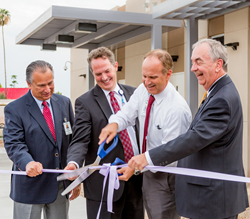 This expansion...allows us to...offer the same high-quality cancer treatment that has made Banner MD Anderson so widely respected.
SURPRISE, ARIZ. (PRWEB) September 15, 2015
Several dignitaries spoke at a Sept. 8 reception, recognizing Sun Health Foundation donors who helped fund the new Banner MD Anderson Cancer Center radiation oncology facility on the Banner Boswell Medical Center campus in Sun City.
But none spoke as passionately as cancer survivor Don Leyshon, a Sun City resident and Sun Health supporter who recently received treatments at Banner MD Anderson's radiation oncology center on the Banner Thunderbird Medical Center campus.
"I have never been around such wonderful people," Leyshon said of the staff members who cared for him at Banner Thunderbird. "It's such a great thing that Banner MD Anderson is now here in Sun City."
The new radiation oncology center began treating patients last week. It features an Elekta Infiti linear accelerator capable of delivering pinpoint radiation therapy to cancer patients. Approximately half of all cancer patients require radiation therapy as part of their treatment. This incredibly precise method of delivering regulated doses of high-energy radiation is often prescribed daily over several weeks.
The Banner Boswell location is the third Banner medical center in Arizona to offer radiation oncology programs on its campus under the umbrella of Banner MD Anderson Cancer Center in Gilbert. The other two campuses with centers are Banner Thunderbird Medical Center in Glendale and Banner Desert Medical Center in Mesa.
Treatment at all three locations is integrated with Banner MD Anderson, including MD Anderson's world-renowned approach to cancer care and access to subspecialty experts in both Gilbert and Houston, home of the University of Texas MD Anderson Cancer Center. Patients also will have access to many of the programs and services offered at the comprehensive cancer center in Gilbert.
"This expansion at Banner Boswell allows us to provide radiation treatment close to where patients live, work collaboratively with physicians in Sun City and surrounding communities, and offer the same high-quality cancer treatment that has made Banner MD Anderson so widely respected," said Dave Cheney, CEO of Banner Boswell. "I'm most proud of this community for their generosity in making this happen."
Sun Health President and CEO Ron Guziak echoed those thoughts. "Foundation donors keep giving, and keep pushing us to provide the best possible health care. This is prime example of that dynamic."
About Sun Health Foundation
For nearly 50 years, Sun Health Foundation donors have supported superior health care in the West Valley. The foundation is the philanthropic partner to the Banner Sun Health Research Institute, Banner Boswell and Banner Del E. Webb medical centers, as well as community wellness programs and senior living services provided by Sun Health.
# # #