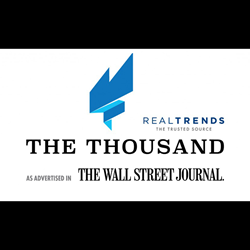 I am proud and honored to be included in such an incredible group of professionals and achievers
San Francisco, CA (PRWEB) September 15, 2015
In a special section of The Wall Street Journal and in conjunction with REAL TRENDS, the team of Peggy Economos and Kirk Economos were recognized as one of America's top professional real estate teams. The prestigious national awards ranking sponsored annually by the two respected publications ranked the Peggy Economos team 23 in the nation for average sales price of transaction out of all REALTORS® nationwide that operate as a team.
As first reported in The Wall Street Journal, June 26th 2015, Peggy Economos of Pacific Union International Real Estate was recognized by REAL TRENDS, in the category of America's top real estate professional teams. The team that includes Peggy Economos and husband Kirk Economos is now a member of the "The Thousand Top Real Estate Professionals." This achievement recognizes the Economos team in the top one half of 1 percent of the more than 1,100,000 REALTORS® nationwide.
"The Thousand" awards program was developed jointly by WSJ. Custom Studios and REAL TRENDS, a leading source of analysis and information for the residential real estate brokerage industry. The 6 award categories recognized individuals and teams for sales volume, transaction sides, and average sales price.
According to "The Thousand", team Peggy Economos had an average property sales price of nearly $5,686,000 per transaction ranking the team twenty-third out of all teams in the nation.
"I am proud and honored to be included in such an incredible group of professionals and achievers," said Peggy Economos who serves clients of primarily high-end homes in San Francisco. "With 28 years of real estate experience, dedication to my clients and partnership with my husband, I have earned the loyalty of my clients and the respect of my colleagues. Add to that the beautiful and remarkable city of San Francisco and I am blessed with a recipe for success."
The team of Peggy Economos and Kirk Economos are not new to high-achievement in San Francisco Residential Real Estate. Their team has been a part of some of the most prestigious real estate transactions in San Francisco including the most expensive single-family MLS home sales in both 2012 and 2013 and the second and third most expensive coop apartment sales in 2014.
Peggy Economos and Kirk Economos are agents with Pacific Union - Christies International Real Estate in San Francisco. They represent buyers and sellers of San Francisco's higher-end properties.
HomesSF.com is the online presence of Peggy and Kirk Economos. The site provides information on the local San Francisco luxury residential market as well as news, insight and information on national and global, high-end properties and markets.
For buyer and seller representation, real estate information in San Francisco or for a qualified luxury property referral in your local area contact: Peggy and Kirk Economos, http://HomesSF.com, call: (415) 271-6390, or email: peconomos(at)pacunion(dot)com.