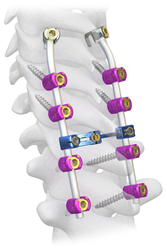 "Pursuing this clearance illustrates Spinal Elements' drive to facilitate the best possible care of my patients," said John G. Devine, MD, Chief, Spine Surgery Service and Professor of Orthopaedic Surgery at Georgia Regents University, Augusta, Georgia
CARLSBAD, CA (PRWEB) September 16, 2015
Spinal Elements, a spine technology company, today announced that they recently received clearance through the United States Food and Drug Administration to market its LOTUS Posterior Cervical/Thoracic Spinal System with expanded indications for posterior cervical screw placement. Previous clearance had allowed for screw placement only in the Thoracic (T1-T3) spine. The new clearance now broadens the LOTUS System's indications for the placement of screws in the Cervical (C1-C7) spine, providing surgeons with more surgical treatment options for improved treatment of various posterior cervical and thoracic pathologies.
Spinal Elements is one of only three companies in the posterior cervical-thoracic space to receive clearance for these expanded indications.
"The use of screws in the posterior cervical spine as an effective treatment option is well documented in the literature. Pursuing this clearance illustrates Spinal Elements' drive to facilitate the best possible care of my patients," said John G. Devine, MD, Chief, Spine Surgery Service and Professor of Orthopaedic Surgery at Georgia Regents University in Augusta, Georgia. Jason Blain, President of Spinal Elements added, "Achieving these expanded indications for our posterior cervical-thoracic fixation system aligns with our company's mission to set a new standard. We endeavor to provide our surgeons with the most advanced implants, instruments and techniques available."
The Lotus Posterior Cervical/Thoracic Spinal System is intended to provide immobilization and stabilization of spinal segments as an adjunct to fusion for the following acute and chronic instabilities of the cervical spine (C1 to C7) and the thoracic spine from T1-T3; traumatic spinal fractures and/or traumatic dislocations; instability or deformity; failed previous fusions (e.g., pseudarthrosis); tumors involving the cervical/thoracic spine; and degenerative disease, including intractable radiculopathy and/or myelopathy, neck and/or arm pain of discogenic origin as confirmed by radiographic studies, and degenerative disease of the facets with instability.
The Lotus Posterior Cervical/Thoracic Spinal System is also intended to restore the integrity of the spinal column even in the absence of fusion for a limited time period in patients with advanced stage tumors involving the cervical spine in whom life expectancy is of insufficient duration to permit achievement of fusion.
In order to achieve additional levels of fixation, the Lotus Posterior Cervical/Thoracic Spinal System may be connected to the Mercury® Spinal System with the Lotus Posterior Cervical/Thoracic rod connectors. Transition rods with differing diameters may also be used to connect the Lotus Posterior Cervical/Thoracic Spinal System to the Mercury Spinal System. Refer to the Mercury Spinal System package insert for a list of the Mercury Spinal System indications for use.
About Spinal Elements
Spinal Elements, headquartered in Carlsbad, CA, is a spine technology company for spine surgeons who demand innovative, extremely high quality surgical solutions. From the company's early work which helped make PEEK commonplace throughout the spine industry to recent advancements in Ti-Bond® coated interbody implants and controlled delivery technology, Spinal Elements has built a reputation for being trustworthy, innovative and different. The company is focused on the development and marketing of progressive spinal treatment options and markets a complete portfolio of advanced spinal implant technologies. Additionally, the company distributes Hero® Allograft, the net proceeds from which are donated to charities benefitting children with life-threatening medical conditions. For more information, please visit http://www.spinalelements.com.
###
Media Contact:
Laura Charlton (formerly Johnson)
laurajohnsonpr(at)yahoo(dot)com
(760) 450-7749 cell