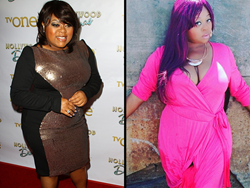 It's simple, the more fat you can remove, the bigger the change the patient will experience.
Las Vegas, NV (PRWEB) September 16, 2015
Plastic surgeons have been spreading the word that if one wants liposuction, you "must" be within 10-20 pounds of your ideal weight. Liposuction expert and owner of MyShape Lipo, Trevor Schmidt PA-C believes that's a myth and 100% wrong. He discusses the dramatic results that larger women like Countess can expect from liposuction.
Vaughn's recent liposuction procedure was featured on "Hollywood Divas" two part season finale on September 9 and 10. In her interview with People published September 7, 2015, she claims to have dropped from a size 16 to size 10 as she boldly discusses her procedure and how it's affected her life.
"I've always been honest about everything," the reality star, 37 tells People. "I wanted to do a mommy makeover. I had done it after my oldest child. I really needed to just treat myself, and I'm happy about it!"
Vaughn, like many patients treated at MyShape Lipo, has struggled with her weight and has failed diet and exercise after the challenges of having children. Pregnancy can lead to many issues with the body and is something that so many "mommies" struggle with following the birth of their children.
"It's simple, the more fat you can remove, the bigger the change the patient will experience," says Schmidt. "Patients like Countess are very common at MyShape Lipo and they inevitably get the biggest most dramatic results."
According to the American Society for Aesthetic Plastic Surgery (ASAPS), liposuction is now the most popular cosmetic procedure performed in the United States. According to their statistics liposuction procedures increased 16.3% to a total of 363,912 procedures in 2013. "The numbers do not come as a surprise," states Jack Fisher, MD, President of ASAPS.
"Larger patients like Vaughn are the majority in our office," says Schmidt. "Most of them have neglected themselves while focusing on raising their kids, but now it's time for them to get back the curves they once had in their youth."
Traditionally, most plastic surgeons will actually tell patients that they need to lose weight before they can have liposuction. They are also told that liposuction is not a weight loss procedure and does not work for obese patients. Many women are simply turned down and told that liposuction is not right for them.
"It's absurd to tell someone that is asking you to remove fat for them that they need to lose weight so that we can remove their fat," claims Schmidt. "Most have already tried and failed diet and exercise, now they are looking for help. When they have been turned down by others, I'm happy to accept the challenge."
Vaughn's story is very common and resonates with all those mothers that struggle to get their body back after having children. Many mothers sacrifice themselves for the welfare of their children when they are young. Then they reach a point when their children are older and now it's "Mommy Time," when they decide to focus their efforts to improve themselves and address the weight issues that they have put off for so long. Hence, the phrase "Mommy Makeover."
"The mommy makeover is a fantastic way to get your confidence back after your babies have destroyed your body," says Schmidt. "With liposuction we can reduce the waist and if needed we can transfer fat to the breasts or butt for a natural enhancement without implants."
For the "Mommy Makeover" at MyShape Lipo, they offer liposuction to reduce the fat, fat transfer to move it to the butt or the breasts and Smart Lipo laser skin tightening if there is a loose skin issue. For the mommy that is struggling to get back in her clothes or lacks the confidence they once had, then liposuction may be right for them.
About MyShape Lipo
MyShape Lipo is a specialty liposuction clinic located in Las Vegas, NV that attracts patients from around the world who take advantage of their affordable rates and extensive experience in liposuction. Trevor Schmidt, PA-C, the liposuction specialist and owner has the experience of over 15,000 areas of liposuction treated on all shapes and sizes of both men and women. They offer complimentary "Body Shape Analysis" in person or over the phone with pictures. Call today to set up yours, 702-818-5476.