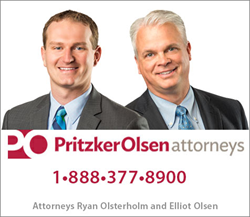 (PRWEB) September 15, 2015
Attorneys Ryan Osterholm and Elliot Olsen of the PritzkerOlen law firm in Minneapolis filed a lawsuit against Chipotle Mexican Grill, Inc. (Chipotle) on behalf of a Minnesota woman (Plaintiff) who allegedly contracted a Salmonella Newport infection after eating at the Chipotle restaurant located at 3095 White Bear Avenue North, Maplewood, MN (the Maplewood Chipotle).
The lawsuit was filed on September 14, 2015, in the United States District Court for the District of Minnesota (court file no. 0:15-cv-03668).
According to the lawsuit, Plaintiff's illness is part of a Minnesota Salmonella Newport outbreak associated with eating at a Chipotle restaurant in Minnesota. Illness start dates allegedly range from August 20 to August 29, 2015.
The Complaint filed in the suit alleges that on August 28, 2015, Plaintiff ate at the Maplewood Chipotle. On August 31, 2015, Plaintiff began developing stomach cramps and diarrhea, and she sought medical treatment on multiple occasions. Testing on Salmonella bacteria found in her stool samples confirmed that Plaintiff had contracted a Salmonella Newport infection with a DNA pattern matching the outbreak strains.
PritzkerOlsen Law Firm
PritzkerOlsen, P.A., a national food safety law firm, has won millions for clients in lawsuits against restaurants. Attorneys Ryan Osterholm and Elliot Olsen can be reached at 612-338-0202 or via the firm's website, http://www.pritzkerlaw.com. The firm's offices are located in the Twin Cities at 45 South 7th Street, Suite 2950, Minneapolis, Minnesota 55402.