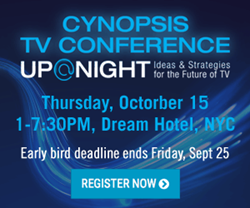 The Cynopsis TV Conference draws top-tier brand, agency, and network executives with its engaging panels and unique networking opportunities.
New York, NY (PRWEB) September 15, 2015
Tim Maleeny, Chief Strategy Officer & Managing Partner of Havas Worldwide NYC has been tapped as the 2015 Keynote for the Cynopsis TV Conference on Thursday, October 15 in New York City. The event, which offers a platform for idea sharing amongst industry thought leaders and key networking opportunities, is also drawing top-tier brand, agency, and network executives.
The October 15 conference will also include the following brand and agency speakers:

Anush Prabhu, Partner, Chief Channel Planning & Investment Officer – Deutsch
Chris Wilson, President, National TV – Rentrak
Anjali Midha, Global Media & Agency Research Director – Twitter
Christy Tanner, SVP & GM – CBS Interactive Media Group
Mark Malinowski, SVP, Director of Partner Innovation – M Booth
Vanessa Adamo, SVP, Brand Partnerships, Entertainment Enterprises – iHeartMedia
Maurice Herrera, SVP, Marketing – Weight Watchers
Scott Rosenberg, VP of Advertising, Content & Services – Roku
Carl Salas, VP & Sr Credit Officer, Telecom/Media Group – Moody's Investor Service
The TV-focused conference, sponsored by Reach Engine and Insomnia Cookies, will be held at the Dream Hotel in New York City and will include sessions on programming, data, OTT, and new revenue streams. For more details and a full agenda, go to http://www.cynopsisupatnight.com/.
A networking reception honoring the recipients of the 2015 Rising Star Award, given to industry leaders 30 years old or younger, will directly follow the conference. This year's honorees come from media companies including Havas Media, SMG Multicultural, NASCAR, LeadDog, DigitasLBi, the United States Olympic Committee, and more. To view the full list of winners and event information, visit: http://cynopsis.com/event/2015-rising-star-reception/
For questions about registration, contact Jackie Johnson at Jackie(at)cynopsis(dot)com or go to http://www.cynopsisupatnight.com/. For sponsorship information, contact Vice President of Sales and Marketing Mike Farina at Mike(at)cynopsis(dot)com.
About Cynopsis Media:
Cynopsis Media is a division of Access Intelligence LLC. The Cynopsis Media family of products includes Cynopsis, Cynopsis Digital and Cynopsis Sports daily e-publications, weekly Cynopsis Jobs e-publication, Special eReports, Event/Summits and a strong database of Classifieds and more. Visit cynopsis.com.
###