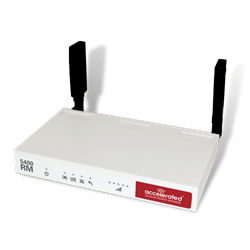 The 5400-RM delivers seamless broadband backup capabilities and simultaneous uninterrupted remote management
Tampa, Florida (PRWEB) September 16, 2015
Accelerated today announced that AT&T has issued Notice of Network Compatibility on the AT&T Mobility network, certifying the deployment of the Accelerated 5400-RM OOB Cellular Remote Manager with AT&T Mobility SIM cards.
The 5400-RM OOB Cellular Remote Manager allows system administrators to easily and securely manage remote network devices at large scale, using any site Ethernet based connection, or completely out-of-band using the Cellular Data Network. In addition, through the use of Accelerated's next generation embedded 3G / LTE cellular failover technology, the 5400-RM delivers seamless broadband backup capabilities and simultaneous uninterrupted remote management from our cloud-based management portal, Accelerated ViewTM during primary connection downtime.
With this AT&T Network compatibility certification, Accelerated continues to deliver on its commitment to new technology & solutions which simplify network management at scale and improve network management efficiency for any size Enterprise customer.
About Accelerated™
Accelerated is an innovator in global cellular, cloud and network communications, and offers industry-leading hardware and software solutions that expand primary and backup data connectivity and management capabilities. Since the creation of its flagship product NetBridge in 2006, Accelerated continues to innovate its line of cellular hardware, network management software and virtual private network (VPN) technology. Accelerated offers a range of Machine to Machine (M2M) and Internet of Things (IoT) communication technologies including its Dial-to-IP™ Converter and custom OEM solutions, in addition to its newest product, the LTE Cellular Extender Model 6300-LX, a compact, high-performance wireless router/modem. All Accelerated products can be centrally managed using Accelerated View™ cloud-based network management software. Accelerated is headquartered in Tampa, Florida, with offices in Chicago and Brisbane, Australia. For more information, visit: Accelerated.com