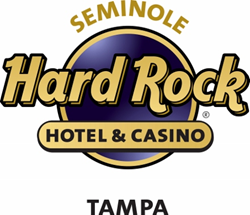 I realized that the words – Grey Salt – felt very much like what I wanted the restaurant to feel like – tranquil, soothing and calm. It's hard to explain, but it just felt right and the more we all thought about it, the more it clicked." said Murphy
Tampa, FL (PRWEB) September 15, 2015
Chef Marc Murphy's new Mediterranean-inspired restaurant in Seminole Hard Rock Tampa, scheduled to open in November, will be named Grey Salt.
The property recently partnered with the renowned New York City-based chef to open the 250-seat restaurant, which will feature dishes like grilled gulf shrimp spiedini with charred lemon + scallion and spicy lamb + tzatziki grilled flatbread.
"I grew up throughout Europe – predominantly in Southern France and Italy where grey salt is a staple," said Murphy. "When I was thinking about the menu for this restaurant, I decided to incorporate the finishing salt into some of my dishes to serve as a reflection of my childhood and when it came to think of a name, I realized that the words – Grey Salt – felt very much like what I wanted the restaurant to feel like – tranquil, soothing and calm. It's hard to explain, but it just felt right and the more we all thought about it, the more it clicked."
About Marc Murphy
Ask Chef Marc Murphy where he grew up and he'll fire off a list of cosmopolitan destinations — Milan, Paris, Washington DC, and Rome. For some, growing up the son of a globetrotting diplomat might have been stressful, yet for Murphy, this dizzying list of hometowns served as an excellent education in French and Italian cuisine, and afforded him the luxury of learning from a young age just how much he loved the world of cooking and of restaurants. Since then, Murphy has logged more than 20 years in the restaurant business, working in some of the world's most highly esteemed kitchens, including Le Miraville in Paris, and Le Cirque in New York. He was also the Executive Chef at Cellar in the Sky at Windows on the World in the World Trade Center, La Fourchette and Chinoiserie.
In March 2004, Murphy opened his first solo enterprise with Landmarc [Tribeca], which won rave reviews both for its eclectic French and Italian menu as well as its highly untraditional wine list. Following its success, Murphy opened Ditch Plains in the West Village in 2006 serving casual, beach-style cuisine such as lobster rolls, fish tacos and the infamous ditch dog as well as other comfort food favorites. In 2007, Murphy was given the opportunity to open another Landmarc restaurant in the prestigious Time Warner Center where he brought his bistro-style cuisine midtown. In October 2013, Murphy opened Kingside at the Viceroy New York hotel on New York's iconic West 57th streets serving his interpretation of New American cuisine. Murphy's restaurants now fall under the Benchmarc Restaurants by Marc Murphy name, where he acts as Executive Chef and Owner. In addition to the restaurants, Murphy also heads up the company's catering division, Benchmarc Events by Marc Murphy, where his signature style of accessible contemporary cuisine transcends the boundaries of what is offered in his restaurant locations.
Today, Murphy's involvement in the industry moves beyond the restaurants as well, with a regular role as a judge on The Food Network's highest rated hit show, CHOPPED as well as appearances on IRON CHEF AMERICA, GUYS'S GROCERY GAMES, BEAT BOBBY FLAY, WORST COOKS IN AMERICA, UNIQUE EATS, THE BEST THING I EVER ATE, THE BEST THING I EVER MADE, THE RACHAEL RAY SHOW and THE TODAY SHOW among others. He is the President of the Manhattan chapter of the New York State Restaurant Association, a board member of City Harvest, Culintro and Passport NYC at the 92nd Street Y Culinary Camp, as well as a member of the Food + Finance High School's Industry Advisory Board, a member of the Leadership Council for Share our Strength's No Kid Hungry campaign and the national spokesperson for Share Our Strength's Dine Out For No Kid Hungry. In 2012, Marc joined the U.S. Department of State's Diplomatic Culinary Partnership, where he takes part in public diplomacy programs that engage foreign audiences abroad as well as those visiting the United States. Marc's debut cookbook, Season with Authority: Confident Home Cooking was released in April 2015.
About Seminole Hard Rock Hotel & Casino Tampa
Seminole Hard Rock Hotel & Casino Tampa is the premier entertainment destination of Central Florida and the place where celebrities love to stay and play. Owned and operated by the Seminole Tribe of Florida, this electrifying casino destination is one of the most successful and largest casinos in the world and is located in Tampa, Florida off of I-4 at North Orient Road and Hillsborough Avenue, between I-75 and I-275, about 10 minutes east of downtown Tampa. Featuring high stakes table games along with thousands of the hottest slot machines, the rock star amenities at this AAA Four Diamond rated hotel and casino range from seven award-winning Zagat-rated restaurants, a newly renovated Rock Spa® and VIP services galore. The casino offers a valet service or free, self-parking. For more information, please call 866-502-PLAY or visit us online and via Facebook, Twitter,Instagram and Pinterest.
About Hard Rock International
With a total of 203 venues in 64 countries, including 156 cafes, 22 hotels and 11 casinos, Hard Rock International (HRI) is one of the most globally recognized companies. Beginning with an Eric Clapton guitar, Hard Rock owns the world's greatest collection of music memorabilia, which is displayed at its locations around the globe. Hard Rock is also known for its collectible fashion and music-related merchandise, Hard Rock Live performance venues and an award-winning website. HRI owns the global trademark for all Hard Rock brands. The company owns, operates and franchises Cafes in iconic cities including London, New York, San Francisco, Sydney and Dubai. HRI also owns, licenses and/or manages hotel/casino properties worldwide. Destinations include the company's two most successful Hotel and Casino properties in Tampa and Hollywood, Fl., both owned and operated by HRI parent company The Seminole Tribe of Florida, as well as other exciting locations including Bali, Chicago, Cancun, Ibiza, Las Vegas, Macau and San Diego. Upcoming new Hard Rock Cafe locations include San Juan, Lagos and Busan, South Korea. New Hard Rock Hotel projects include Daytona Beach, Dubai, Los Cabos, Tenerife, Abu Dhabi, and Shenzhen and Haikou in China. For more information on Hard Rock International, visit http://www.hardrock.com.
###