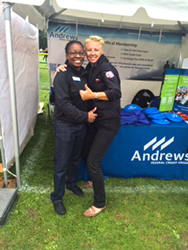 Suitland, Maryland (PRWEB) September 15, 2015
Andrews Federal Credit Union participated in the 17th Annual SHAPE Fest, held on S.H.A.P.E., located outside of Mons, Belgium.
SHAPE Fest is an annual event, designed to support the orientation of newcomers, augment installation command and community information programs, and generate camaraderie among staff and family members.
"It is a pleasure to be able to participate in such a great event that is fun for individuals or families", said Andrews Federal Credit Union's Joshua Barrett, Chievres Branch Manager. "There were fun games, food from various countries, music, and great company for all to enjoy. "
It is the largest international event of the year, and provides the community a chance to come together to discover what SHAPE has to offer. It also gives community members an opportunity to experience the culture of those with whom they work and live.
About Andrews Federal Credit Union
Andrews Federal Credit Union was founded in 1948 to serve the needs of military and civilian personnel by providing a vast array of financial products and services. With over $1 billion in assets, Andrews Federal has grown to serve more than 113,000 members in the District of Columbia, Joint Base Andrews (MD), Springfield, Virginia (VA), Joint Base McGuire-Dix-Lakehurst (NJ), and military installations in central Germany, Belgium, and the Netherlands. In addition, the Credit Union serves as a financial partner with many select employee groups in Maryland, the District of Columbia, and New Jersey.
To learn more about Andrews Federal Credit Union and its community involvement, or to become a member, call 800.487.5500 or visit http://www.andrewsfcu.org.