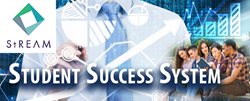 Imagine how a system like this can change the course of a struggling student's career and future.
Chattanooga, TN (PRWEB) September 16, 2015
It wouldn't surprise most people to know that what made students successful 50 years ago is what makes students successful today. At an early age, many of us were coached by our parents and teachers in habits that lead to success. Is it possible there are computer systems that can analyze these behaviors, compare individuals' results to habits of successful students and, more importantly, warn those who begin the process of withdrawal long before they drop out of school? There is.
Behavioral analytics in higher education can identify and track habits leading to success but can also track the habits leading to withdrawal and use them as "red flags." Consider that by analyzing a students' digital footprint, like class attendance and time spent in the library, universities have the capacity to catch students slipping while there is still time to recover. Of course, it's a lot more complex than analyzing class attendance and library use, but by weighting and interpreting data collected from a variety of seemingly mundane sources, universities can maximize student potential.
"Modeled on successful student behaviors, StREAM Student Success System focuses on improving learning habits, thereby enhancing each student's journey," said Scott Davis, VP of Sales and Marketing at InfoSystems. "Imagine how a system like this can change the course of a struggling student's career and future."
At its core, behavioral analytics offers the possibility to modify behaviors. Students can, of course, see their daily and weekly patterns on a dashboard. Tutors and university administrators can set triggers that call for intervention. With StREAM, observable and measurable data, long understood to be the foundation for behavioral modification, can once again be a useful tool to change students' lives and futures.
The idea is a system that reacts to behaviors, benchmarks student engagement based on their digital footprint, and finally alerts to potential problems before it is too late. Universities that have implemented this system see student disengagement long before the negative consequences take effect. In the end, StREAM powered by HP's IDOL software can make intervention timely and allow advisors, counselors and most importantly students, time to improve.
About InfoSystems, Inc.
InfoSystems serves business in the United States and Puerto Rico with outcome based solutions from Cloud Assessments and Migrations to Prescriptive Analytics. InfoSystems' newly launched StREAM Student Success System is an award winning predictive analytics solution already being used by several university networks in Europe. All of InfoSystems' services are backed by certifications in data storage, virtualization, cloud, server infrastructure, backup and disaster recovery, network security, software development, voice service and unified communications.