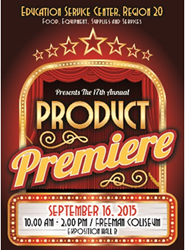 (PRWEB) September 15, 2015
ServerMonkey will be attending the Educational Service Center, Region 20 Product Premiere for the first time this year. The 17th annual show will be hosted in San Antonio on September 16 at the Freeman Coliseum in Exposition Hall B.
Education Service Center, Region 20 works to impact the learning community by providing high quality and cost effective products and services. ESC 20 is an educational service agency created to advance learning through leadership and innovation.
ESC20's Product Premiere allows vendors and manufacturers an opportunity to showcase their products and services to school employees. Attendees include purchasing employees for area school districts, as well as charter, private, and non-profit organizations. These attendees will include superintendents, department administrators, and other decision makers.
ServerMonkey will be hosting booth 426, where the Monkeys hope to provide attendees with better IT hardware options, as well as hand out a little swag.
About ServerMonkey- ServerMonkey (http://www.servermonkey.com) provides new and pre-owned IT hardware including servers, networking equipment, workstations, laptops and desktops. Customers of all sizes, both small and large enterprise, utilize our trained engineers and technicians to conduct on-site services on a global scale.
Servermonkey's value-added datacenter services include IT Asset Decommission and Disposition, Asset Recovery and Spare Parts Harvesting, Kitting, and other customized programs designed to improve ROI on IT hardware. Our OHSAS 18001:2007, ISO 9001:2008 and ISO 14001:2004 certified headquarters is located in Houston, Texas, and we ship internationally through hubs in Amsterdam and Hong Kong.