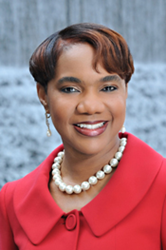 Atlanta, GA (PRWEB) September 16, 2015
Janine Anthony Bowen has joined LeClairRyan as a shareholder on the firm's Corporate Services and Privacy and Data Security practice teams. She will be resident in the national law firm's Atlanta office.
Bowen counsels clients in technology‐related matters regarding cloud computing, mobile commerce, internet and e‐commerce, privacy and data security, intellectual property, and the licensing and acquisition of technology.
In her more than 17 years of practice, Bowen has developed significant experience in advising clients on negotiating technology‐related deals with Fortune 500 companies across an array of industries. She also counsels businesses on technology disputes and provides strategic advice on a wide range of technology challenges.
Additionally, Bowen is a Certified Information Privacy Professional (CIPP/US) by the International Association of Privacy Professionals. She also serves as a Consumer Privacy Ombudsman in bankruptcy matters in U.S. Trustee Region 8.
Prior to entering legal practice, Bowen held positions as a software consultant, industrial engineer and program manager for various global technology companies. She is a graduate of Georgia State University College of Law (J.D.) and Clemson University (M.S. and B.S.). Bowen is admitted to practice in Georgia.
About LeClairRyan
As a trusted advisor, LeClairRyan provides business counsel and client representation in corporate law and litigation. In this role, the firm applies its knowledge, insight and skill to help clients achieve their business objectives while managing and minimizing their legal risks, difficulties and expenses. With offices in California, Colorado, Connecticut, Delaware, Georgia, Maryland, Massachusetts, Michigan, Nevada, New Jersey, New York, Pennsylvania, Texas, Virginia and Washington, D.C., the firm has approximately 380 attorneys representing a wide variety of clients throughout the nation. For more information about LeClairRyan, visit http://www.leclairryan.com.