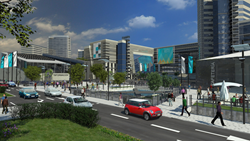 A mobile event is an interactive and engaging website designed to collect leads and generate big data from a specific audience.
Madrid, Spain (PRWEB UK) 17 September 2015
IMASTE, the leading European virtual and mobile events company, announces the launch of the new platform of their digital events software fully designed specifically for mobile users. After six years hosting virtual events in twenty countries for clients such as monster.com, The British Council, Groupama or Campus France, Imaste has seen how the trend of online events has evolved from 3D to mobile.
The new Imaste software is full Html5 and includes mobile chat. The product is moving from the traditional concept of "virtual event", in which 3D immersion was important user engagement, to the concept of "mobile event," with a special focus on engaging attendees through chat-based mobile events.
The new Imaste 4.5 mobile version has been developed with a responsive design. This means that not only does it work on mobile devices, but that the design and the user experience has been optimized for mobile navigation. Some of the challenges that online event organizers face are how to engage audiences, how to collect leads, and how to gather and analyze big data. These elements have been tweaked in the new version, and what Imaste hopes to achieve with this change is to increase conversion rates and improve ROI.
Mobile events create online communities of users that have a common interest, and with this new Imaste 4.5 mobile platform, the fields of application grow exponentially to all kinds of events: medical congresses, company events, tradeshows, job fairs…
The Imaste new platform allows integration with all kinds of webcast software, reporting tools and existing company databases, allowing seamless integration through existing dedicated web services.
The Imaste 4.5 version will be presented to companies via webcast on September 30th. Registration is free at http://hubs.ly/H018XJd0
About Imaste
Imaste is a Madrid-based mobile and virtual events software developer with experience in more than two hundred virtual job fairs worldwide. Our platform is used by over two thousand exhibitors and more than one million users, creating online communities in twenty countries. Imaste works closely with companies, websites and PCOs to support their sales, marketing and lead generation strategies. If you´re interested in digital events and what Imaste does, please contact us at info(at)imaste-ips(dot)com