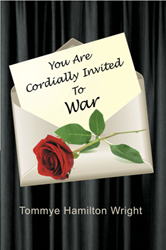 I believe that there are interesting stories about the great generations of patriotic women who dealt with the war on the home front. I wanted to tell their story
Birmingham, Ala. (PRWEB) September 15, 2015
While many historical books focus on a man's perspective, very few highlight how women felt during times of war. Because of this, Tommye Wright has dedicated her time to highlight women in her new book, "You are Cordially Invited to War."
During her time as a child in World War II, Wright's father was their neighborhood air raid warden and her mother sewed blackout curtains for the windows of their home, all while working around the inconveniences the war brought.
"I believe that there are interesting stories about the great generations of patriotic women who dealt with the war on the home front. I wanted to tell their story," Wright said.
"You are Cordially Invited to War," highlights a young woman in a battle caring for her terminally ill mother and her twins, one with polio, the other with chicken pox. One morning, a colored girl appears at her door wanting to help and to the woman's surprise, lightens the burdens around the house.
"Some books focus on the discrimination and disrespect of white employers for their African-American help, but my book depicts a warm, caring friendship between a white woman and her help," Wright said.
Not only does Wright's book hone in on racial and social relationships, but it also encourages readers to overcome their hard battles and to believe in all of their capabilities. Based on real experiences and stories, "You are Cordially Invited to War" is a read for all history buffs.
For more information, visit: http://www.tommyehamiltonwright.com
"You Are Cordially Invited to War"
By: Tommye Hamilton Wright
ISBN: 978-1-4917-5625-6
Available in softcover, hardcover, e-book
Available on Amazon, Barnes & Noble and iUniverse
About the author
As a member of numerous writing clubs, Tommye Wright has spent hours researching and writing about history. At a young age, Wright witnessed war times and what many people went through and now shares of those memories in her book, "You are Cordially Invited to War." From Gainesville, Ga., and now residing in Birmingham, Ala., Wright enjoys flower gardening, reading biographies, and taking trips to the mountains.
# # #
For review copies or interview requests, contact:
Katie Wenclewicz
317.602.7137
kwenclewicz(at)bohlsengroup(dot)com