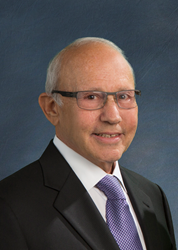 "With the looming prospect of serious long term care needs, it is vital for individuals and families to get serious about their personal financial planning and have a plan in place to pay for a long term care event."
Riverwoods, Illinois (PRWEB) September 18, 2015
Murray A. Gordon, Founder and CEO of MAGA Ltd., has been selected as an honoree in the 2015 Entrepreneurial Excellence Awards by the Daily Herald Business Ledger. The award honors Gordon's Lifetime Achievement as a pioneer in the Long Term Care Insurance Industry. He was recognized with other award winners at a ceremony on Wednesday, September 16, at Northern Illinois University in Naperville, Illinois.
Gordon founded MAGA 40 years ago, at a time when Long Term Care Insurance was a new and little understood product. He took an early leadership role in the industry, establishing education programs for insurance professionals and financial planners and serving on a variety of advisory associations. Over the course of Gordon's long career, he has seen demographic changes that raise the stakes when it comes to financial planning for senior care needs.
"The baby boomer generation is headed into choppy, uncharted waters when it comes to their long term care needs," notes Gordon. "By 2020, almost 55 million Americans will be age 65 or older, and life spans are continuing to grow longer. In past years, analysts noted the impact of senior care on the so-called "sandwich generation" – adults who were responsible for their aging parents as well as their own children. With lengthening life spans, the sandwich generation of the future may well refer to people in their 70s providing care to their parents in their 90s, or adults in their working years helping two generations above them. With the looming prospect of serious long term care needs, it is vital for individuals and families to get serious about their personal financial planning and have a plan in place to pay for a long term care event."
For many families, long term care insurance (LTCI) can make all the difference. LTCI coverage directly addresses the care expenses of aging or disabled individuals, in the environment that best suits their wishes and needs. Whether the setting is your home, an assisted living facility, or a nursing home, LTCI benefits supplement other income and assets to minimize the impact of those expenses.
For any family or individual considering an LTCI investment, Murray recommends several important strategies:
1. Get educated about long term care realities The average cost of a private room in a nursing home now tops $90,000 per year, and the average stay in a nursing home lasts nearly three years. Government insurance programs other than Medicaid do not address long term care issues.
2. Plan ahead – far ahead: LTCI premiums are most affordable when individuals sign up while still relatively young and healthy. Purchasers of LTCI in their 40s or 50s may pay thousands less per year than older buyers, and few companies will write policies for individuals over 75. Health and family history will also impact the cost of premiums and availability of coverage.
3. Take care of Mom: Most people are familiar with the fact that women tend to live longer than men. Industry statistics show that 71% of new claims are from women. As a result, women's premiums for LTCI are usually higher than men's (a contrast to life insurance, where women usually pay lower premiums). However, the investment is worthwhile considering the larger potential expenses they face. As mentioned above, purchasing LTCI at a relatively young age can help lower premiums.
4. Customize a plan to fit personal needs. LTCI products are available to fit very specific priorities. Choices abound in terms of amount of coverage, deductibles (commonly referred to as waiting periods for eligibility), benefit increase options that take inflation into account, and specialized shared plans for couples. Insurance advisors often craft combination plans with annuities or life insurance, taking advantage of tax laws for both traditional and asset-based plans. These tax advantages can include tax-free LTC benefits and/or 1035 tax-free exchange for asset-based life/annuity plans with an LTC rider.
5. Seek expert advice. Obviously, experienced guidance is a must in considering these factors. Buyers should seek out insurance professionals with a strong background in LTCI who can fully describe the advantages and limitations of a plan. It makes sense to consult local experts; costs can vary widely by geography and these experts will have the best access to accurate, relevant information.
"The fact is, everyone needs to face up to the real changes that occur with aging, and consider the best way to protect assets," notes Gordon. "For those with the foresight, ability, and commitment to establish that protection, LTCI is a proven strategy that works."
For more information about LTCI from MAGA, visit http://magaltd.com.
About MAGA
Now marking its 40th anniversary, MAGA Ltd. is one of the nation's original long term care planning specialists. To date, MAGA's clients have received millions of dollars in benefits. MAGA offers cutting-edge LTC planning solutions that protect retirement assets, provide quality choices of care, and ease the caregiving burden for families. They work with a number of reputable insurance companies to ensure clients have access to the best options. MAGA serves consumers, corporations, health care professionals, and financial advisors, offering asset-based and traditional LTCI products. The company is passionate about providing personalized service to clients and to educating the public regarding the pressing need for long term care planning. Licensed nationally, MAGA has won numerous achievement awards in its industry, including from the AALTCI, its professional trade association. For more information, visit http://www.magaltc.com.