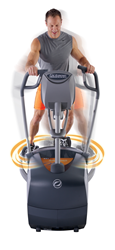 We have had enthusiastic member responses to the LateralX and the xRide, and they are a great addition to our Best in Class section
BROOKLYN PARK, Minn. (PRWEB) September 17, 2015
David Lloyd Leisure, Europe's premier health, sports and leisure group, has named Octane Fitness, LLC an Approved Supplier, and is giving its members even more revolutionary fitness equipment options with Octane's unique LateralX® and xRide® recumbent cross trainers.
"We are passionate about offering the most innovative and effective products to help our members achieve their personal best," said Paul Batty, head of procurement at David Lloyd Leisure. "We have had enthusiastic member responses to the LateralX and the xRide, and they are a great addition to our Best in Class section."
The Octane LateralX and xR6000 xRide seated cross trainer are included as part of David Lloyd's new "Best in Class" gym concept, which presents an array of unique equipment to provide an unrivaled experience and help members achieve their personal health and fitness goals. This equipment was specially selected to deliver exceptional performance and variety to help drive results.
"Like David Lloyd Leisure, we are committed to helping members fuel their fitness, and are relentless in our pursuit of new innovations that deliver exceptional performance, like the unrivaled LateralX and xRide," said Karen Seers, commercial sales manager at Octane Fitness UK, Ltd.
Breakthrough Cross Trainers
Exclusively from Octane Fitness, the LateralX is a new approach to cross training, with a smooth, 3D motion that goes from a vertical elliptical stepping motion to an active side-to-side motion that adjusts on the fly. The total-body workouts require movement in three planes, accommodating beginning exercisers to athletes.
The xRide recumbent elliptical delivers total-body training and utilizes Octane's signature PowerStroke™ technology that delivers a longer elliptical motion that engages more muscles for greater conditioning. Studies indicate the xRide requires 343% more glute activity and burns 23% more calories than recumbent bikes. And Workout Boosters like Muscle Endurance, Chest Press and Leg Press raise intensity for strength training intervals.
Octane Fitness Background
Relentlessly fueled to reinvent zero-impact cardiovascular exercise, Octane Fitness has perfected the elliptical machine, introduced a new category with the xRide® recumbent elliptical, designed strength-infused cardio with the unique CROSS CiRCUIT®, created exercise in a new direction with the LateralX®, reinvented running with the Zero Runner®, optimized cross training with the XT-One™ that does it all and is leading smarter training with SmartLink™. Defined by standout innovations, and driven to deliver more effective, efficient and rewarding workouts, Octane is engineering elliptical domination.
# # #
Find Octane at http://www.Facebook.com/OctaneFitness. Images are available; contact Julie King at 1.847.638.1582 or jking(at)octanefitness(dot)com. For more information, contact the company at 1-888-OCTANE4 (1-888-628-2634) or http://www.octanefitness.com. Octane Fitness, CROSS CiRCUIT, LateralX, xRide and Zero Runner are registered trademarks of Octane Fitness. All other trademarks are protected by their respective owners.