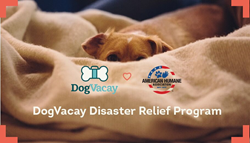 Santa Monica, CA (PRWEB) September 15, 2015
DogVacay (http://www.DogVacay.com), the leading online and mobile pet-sitting and services community, today announced it has teamed up with American Humane Association to create the DogVacay Disaster Relief Program. The pet-sitting community is working with American Humane Association's Red Star Rescue® team to help find temporary housing for pets whose owners are displaced from their homes due to natural disasters and educate pet parents everywhere about how to prepare for their beloved ones in case of an emergency.
Many evacuation shelters cannot take in pets, leaving pet owners in a difficult position when preparing for emergencies. This program will provide temporary homes for these pets in need by working with Red Star Rescue to connect displaced pet owners with trained DogVacay sitters who want to volunteer their homes and services, with DogVacay covering the cost. Most importantly, the program will provide tools and resources for pet parents everywhere on how to best prepare for disasters for all members of the family.
Here's how the DogVacay Disaster Relief Program works:

DogVacay sitters who volunteer for the program will undergo online American Humane Association certification training when they register to take in displaced pets. Upon completion, certified sitters will receive Red Star Hero badges that will appear on their DogVacay profiles.
Starting November 1, in the event that the Red Star Rescue team is called in to respond to a "state of emergency" disaster, DogVacay will assist them in finding temporary housing for pets.
Based on the location of the emergency, the Red Star Rescue team will be on the ground and help connect displaced pet owners with DogVacay sitters through DogVacay's customer care natural disaster hotline.
Displaced pet owners will sign their pets up with DogVacay to ensure all information and details are up to date and correct. DogVacay's customer care support will facilitate temporary housing with their certified sitters and connect them to the pet parent.
DogVacay will cover the costs of temporary housing for displaced pets at a rate of $30 per night, per pet, to the sitter, for up to 10 nights. (Additional pets from one household will be at a rate of $10 per night.)
"During Hurricane Sandy, an estimated 30 million animals, including 14.5 million dogs and 15.3 million cats, were caught in the path of one of the worst natural disasters in our lifetime," said Aaron Hirschhorn, founder and CEO of DogVacay. "When every second counts amid the chaos of a mass evacuation, it is crucial for pet owners to be prepared and know their options to keep their loved ones safe. Most evacuation shelters do not accept pets, but we've seen our community in the past step up to the plate to help animals in need of shelter. When Hurricane Sandy devastated the East Coast, DogVacay sitters took it upon themselves to help the displaced animals and pet owners in their communities. Our new DogVacay Disaster Relief Program supports this amazing community response by giving training and tools to the sitters who want to help and the owners who need it."
"American Humane Association deploys its Red Star Rescue team across the U.S. every year, helping thousands of animals during disasters," said Dr. Kwane Stewart, chief veterinary office for American Humane Association. "We are grateful to be working with DogVacay and helping these displaced pets find a loving home in their time of need."
Pet lovers who are interested in learning more about the DogVacay Disaster Relief Program and tips on how to get prepared can go to dogvacay.com/disasterrelief to sign up as a DogVacay sitter and start certification training.
About DogVacay:
DogVacay is an online and mobile community that connects pet parents in need of services (home boarding, pet sitting, daycare) with qualified pet caregivers. DogVacay has thousands of vetted and insured dog (and cat!) lovers across the country ready to watch your pet like they are a member of their family. Guests can browse sitters in their area, schedule and book online or through DogVacay's mobile app. All reservations include vet insurance, 24/7 emergency support and daily photo updates. DogVacay was founded by husband and wife team Aaron and Karine Hirschhorn in March 2012.
About American Humane Association:
American Humane Association is the country's first national humane organization and the only one dedicated to protecting both children and animals. Since 1877, American Humane Association has been at the forefront of virtually every major advance in protecting our most vulnerable from cruelty, abuse and neglect. Today we're also leading the way in understanding the human-animal bond and its role in therapy, medicine and society. American Humane Association reaches millions of people every day through groundbreaking research, education, training and services that span a wide network of organizations, agencies and businesses.
Press Contact:
Corinna Pieloch
Moxie Communications Group
corinna(at)moxiegrouppr(dot)com