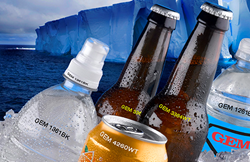 West Hanover, Massachusetts (PRWEB) October 06, 2015
A growing number of craft beer brewers are discovering that displaying a "brewed on" or "best by" date on their products provides customers with an easy way to know if the beer is in its prime. Displaying dates or codes also allows distributors, and store and bar owners to rotate their stock, assuring the brew is always at its best.
Bioterrorism is an important reason to date and lot code
As important as taste and freshness are to beer, a recent government mandate makes it even more vital for brewers to date and lot code. The Public Health Security and Bioterrorism Act of 2002 was passed to protect American food supplies from tampering; this includes alcoholic beverages. Under its provisions, producers are required to keep records that allow food and beverage products to be tracked back through distribution channels to the original manufacturing location. Adding a tracking or production number on the product container is an efficient and effective way to identify the bottle and can, and its origin.
Mouse in Coors can is another important reason to date and lot code
A half humorous, half serious example of the importance of dating and lot coding is the infamous Coors case. It stems back to 1988, which is the time when brewers first began using inkjet printers to help them date and lot code their products, and really defines why brewers should have some way of tracking a container back to its point and time of manufacture. The Coors case concerns James Harvey, an unemployed construction worker, who claimed he found a dead mouse in his 16 oz. can of Coors. Once the story was reported, Coors sales dropped significantly (just imagine how fast a story like this would spread in the era of the Internet and social media?). Harvey demanded up to $50,000 compensation for his pain and suffering. Fortunately for Coors, the can was coded, which established the manufacturing date. It showed that it was brewed 77 days before Harvey cracked open the can and "found" the dead mouse. Unfortunately for Harvey, an autopsy showed the mouse had only been dead for 7 to 14 days. The inexpensive date code that Coors employed surely proved its worth.
The importance of inkjet printers to Craft Beer Breweries
Although there are several methods used to date or lot code beer bottles and cans, there is none better than inkjet printing. Inkjet printing systems are designed to operate in concert with the production line, keeping up with the flow of product through the filling process. Inkjet ink comes in a variety of colors, making it easy for brewers to adjust to new label or container colors. The printer works without having to contact the surface of the container. Ink drops sail from the printhead to land on the surface and dry quickly, on the surface. Inks also forming a colored code that withstands rubbing as well as exposure to moisture. The printer itself is small and mobile, so when coding needs to move to a different section of the production line, the printer is relocated quickly. Better yet, codes can be produced 24/7 at costs as low as $0.0003 each.
When it comes to inkjet printing systems, GEM's solution really shines
Gem Gravure Co, Inc. (GEM) first began providing printing technology and fluids for marking to the marking wire & cable industry, which is considered a most challenging application. What GEM learned from assisting wire & cable manufacturers, it has transferred to craft beer and other industries. From brewing beers to manufacturing electronics, GEM creates product combinations that make coding easy and simple. Inkjet coding is a GEM strength. The Company is the exclusive representative for KBA-Metronic in the United States, Canada and Mexico. Based in Germany, KBA-Metronic's alphaJET printer is one of the most reliable, eco-friendly inkjet printers available. A solvent recovery system is built into each alphaJET unit, reducing make up consumptions to low eco-friendly, budget-friendly rates. GEM ink jet inks range from heavy pigmented opaque to soft pigmented to dye based inks. This range allows customers to select bright opaque codes, codes resistant to automotive solvents, or dye based codes that resist transfer. GEM's staff of expert chemists designs fluids specifically for the needs of virtually any manufacturing process. Moreover, GEM offers a full line of low VOC and VOC exempt inks. GEM is a third generation, family owned and operated company with locations in West Hanover, MA, Santee, CA and Nixa, MO. GEM's service and sales offices support customers across the United States, Canada and portions of Mexico.
About GEM
Since 1952, Gem Gravure has been providing the best printing technology and fluids for marking wire & cable. Gem started with the original patented process for gravure marking wheels, introduced continuous ink jet (CIJ) to wire manufacturers and specially engineered inks for those tough applications. Now the benefit of that experience is available in all forms of coding. From bottling craft brews to manufacturing electronics, Gem creates product combinations that make your life easier. Ink jet coding is a Gem strength.