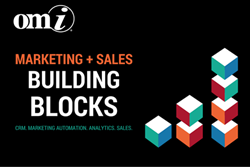 The Izenda licensing model makes the build vs. buy decision easy, especially when considering the cost of maintenance and continual innovation.
Atlanta, GA (PRWEB) September 22, 2015
Business Intelligence software provider Izenda announced today that OMI, a leading provider of Cloud-Based Customer Life-Cycle Management Services, has adopted Izenda as the embedded business intelligence and reporting component within their marketing analytics technology stack.
Social media, email campaigns, CRM and other customer engagement tools don't work well together. Combining data from all of these tools has been close to impossible, failing marketing by not providing the information necessary for their customers' success.
The addition of Izenda to OMI's 366 Degrees customer life-cycle management platform will enable users at all levels of the organization to make data driven decisions to improve marketing campaigns, customer acquisition, retention and ROI from the moment of first contact with a prospect, to sales, and on through renewal periods.
"OMI chose Izenda after first building our own reporting system out of a SQL database," said Brad Banyas, OMI CEO & Founder. "But we needed to add many more data points and data enrichment sources, such as social data from Twitter, Google+ and LinkedIn, and Izenda helps us pull all of this together and accelerate value of all the information we gather across the customer life-cycle."
After reviewing a number of potential solutions, Banyas and his team at OMI determined other solutions were too complex and costly, even more than developing a new solution in house – and that working with Izenda made more sense.
"The Izenda licensing model makes the build vs. buy decision easy," said Banyas. "Especially when considering the cost of maintenance and continual innovation. Now we get the benefit of Izenda's analytics platform, and the costs scales affordably so that clients and partners of any size can inexpensively benefit from Izenda's Business Intelligence platform integration to our platform."
Clients benefit from OMI's economy of scale in its PaaS model, including monetization of third-party applications such as Izenda, Salesforce, Nimble, Twilio, Stripe and Intercom.io, transactions and monthly subscriptions. Integrating intelligently makes more sense than building the analytics stack.
"Embedding the Izenda platform into our 366 Degrees marketplace made smart business sense for OMI, and its customers and partners benefit by having access to advanced business intelligence capabilities that they would otherwise have to procure, develop or integrate which can cost into the hundreds of thousands of dollars," Banyas said.
"Izenda is committed to working with technology companies like OMI who recognize that their ability to rapidly innovate is best achieved by focusing on their core offering and leveraging our white-label ready BI and analytics solution," said Lee Nagel, Izenda VP of Marketing.
About OMI
http://www.omi.co
OMI founded in 1999, provides cloud-centric, customer-focused engagement platforms that help organizations make the most of customer life-cycle communications. OMI's focus is to improve customer engagement by centralizing disparate systems such as CRM, Analytics, Billing and Marketing Automation platforms that ultimately impact the Customer Life-Cycle Strategy. 366 Degrees is a cloud-based service that gives organizations a single platform to manage all of their customer life-cycle communications no matter what form they take and provide a single view of customer engagement. 366 Degrees provides content management, marketing automation, campaign delivery, social connections and visual intelligence of all customer interactions.
About Izenda
Izenda is a leading business-intelligence platform purpose-built for Independent Software Vendors, Solutions Providers and Enterprise users. Our integrated BI platform allows end-users to easily access, visualize, and share valuable data and insights in real time. Embedded seamlessly in your application, Izenda delivers BI directly to the people who need it most. Our core business is BI. Let Izenda do what we do best, so you can do what you do best. To find out more about Izenda's platform, visit Izenda.com.