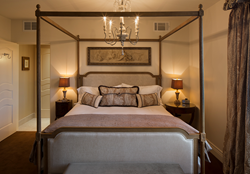 Enchanté is a part of Silicon Valley, where environmental awareness is at the forefront of every industry, and this was an important consideration when seeking a mattress for my guests.
Los Altos, CA (PRWEB) September 16, 2015
Silicon Valley's first romantic luxury hotel, Enchanté Boutique Hotel, opened April 2015, is treating guests to a sleep experience unlike any other as the first hotel in the region to fully equip its rooms with certified organic, sustainably-produced mattresses. The mattresses, made by Naturepedic of Chagrin Falls, Ohio, meet the most stringent of green textile certifications without sacrificing the comfort, luxury and durability desired of a high-quality mattress for a restful night's sleep. Enchanté is the first hotel globally to be outfitted with Naturepedic mattresses.
Enchanté's owner Abby Ahrens' commitment to sustainable luxury and a superior guest experience led her to seek a top-quality mattress that also assured a clean and memorable sleep experience. Certified by the Global Organic Textile Standard, the only third-party organic certification recognized by the USDA for organic mattresses, Naturepedic mattresses are manufactured using non-GMO, plant-based fabrics and sustainably-harvested wools. Naturepedic mattresses are also produced without the use of flame retardants and other toxic chemicals commonly used in mattress production while meeting and exceeding safety standards and regulations for mattresses.
Founded by Barry A. Cik, an environmental engineer, Naturepedic began by producing fully organic crib mattresses after Cik became aware of the threats that common, chemical-laden mattresses posed to newborns and infants. The company soon expanded their offerings to include hand-crafted mattresses for adults following the same rigorous quality standards.
A Naturepedic EOS mattress is featured in each of Enchante's 19 rooms, with queen- or king-size options. Fitting squarely within Enchante's chic and fashionable French aesthetic and European-style hospitality, the EOS mattress' luxurious design showcases a signature quilt and beautiful fabrics with multiple comfort layers. Enchanté selected Naturepedic mattresses to offer guests a cozy sleep experience that also leaves the body supported for proper rest.
"Enchanté is a part of Silicon Valley, where environmental awareness is at the forefront of every industry, and this was an important consideration when seeking a mattress for my guests." says Ahrens. "I was certain Naturepedic was the right choice for Enchanté the moment I discovered the company – the rich production history, the values the company was founded upon, the commitment to quality and health all aligned with what I was seeking for Enchanté."
Enchanté's guests have been enamored by Naturepedic's mattresses, calling them "supremely comfortable" and "a unique component in an already stunning hotel," delivering "the best night's sleep I've had in some time."
Guests of Enchanté are able to purchase the EOS mattress through the hotel. The EOS mattress is customized for individual sleep preferences and includes dual customization for shared beds. An EOS Queen mattress is priced at $2,599.
Offering an elegant and romantic overnight experience with a touch of Paris through French artwork, antiques and décor, Enchante's provides Silicon Valley travelers wary of common options with an unforgettable experience that demands repeat stays.
For more imagery, videos plus fact sheets for Enchante Boutique Hotel and Naturepedic, please click here.
ABOUT ENCHANTÉ BOUTIQUE HOTEL:
Enchanté Boutique Hotel is a brand new experience in luxury hospitality for Silicon Valley and the city of Los Altos, the birthplace of Apple Inc. Each of the public and guest accommodations are unique with a sophisticated, eclectic style that blends elements of a Parisian Inn with French art and memorabilia and modern comforts culminating in a distinctive guest experience. Its elegant, châteauesque architecture commands a striking presence at the entrance to downtown Los Altos. Enchanté is the vision of Abby Ahrens, a real estate professional, developer of custom homes and beloved member of the Los Altos community for over 30 years. Enchanté is the region's first chic and fashionable luxury boutique hotel.
Featuring 19 rooms, each with unique interior designs expressive of French culture, highlighting French artwork and antiques, Enchanté offers a cozy retreat and an alternative to chain hotels for the growing number of travelers coming to the Silicon Valley region. http://www.enchantehotel.com
ABOUT NATUREPEDIC:
Naturepedic, based in Chagrin Falls, Ohio, was founded by environmental engineer Barry A. Cik. Naturepedic specializes in the design and manufacturing of certified organic mattresses for adults and children that promote natural and organic materials, a non-toxic design, fire-safety, and overall health and safety. http://www.naturepedic.com