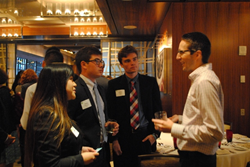 "I've never been to a more successful event where I could really speak one on one with partners. As a result, I interviewed and have accepted a great new opportunity!"
New York, New York (PRWEB) September 15, 2015
Recognizing and valuing the intellectual capital that is found in people with disabilities, Lime Connect's corporate partners PepsiCo, IBM, Google, Target, Goldman Sachs, Bloomberg and JP Morgan are actively recruiting current university students - and alumni - who happen to have disabilities for more than forty (40) professional internship and full time career opportunities. Roles include investment banking, consulting, sales & analytics, software engineering, software development, HR, marketing, supply chain, operations, asset management, wealth management, business analysis, finance, accounting and more. Candidates will network one-on-one and develop relationships with corporate execs and recruiters who are seeking to hire.
One in five people globally, and one in ten students on campus today, has a disability. The large majority of disabilities are non-visible – 90% of those on campus and 70% in the general population - including those who are dyslexic or have ADD, depression, medical conditions and many others. Candidates with all disabilities are encouraged to take advantage of this opportunity.
Date: Wednesday, October 7, 2015
Time: 6:00 – 8:00 pm (registration begins at 5:30)
Format: Cocktail reception with corporate panel and networking
Dress: Business
Location: Midtown New York City
Opportunities: Current openings include a wide variety of professional roles for both current university students and experienced candidates
Space is limited because of the event format, and all candidates apply to attend via The Lime Network. Those whose backgrounds best match current openings will receive an official invitation and event details in advance. To view the professional opportunities available with our partners and apply, candidates may visit http://www.limeconnect.com. Candidates outside of the New York metro area are encouraged to apply as well. Interviews may be held via phone or locally.
Deadline to apply: Midnight PST on Sunday, September 20, 2015
Lime Connect welcomes university students and experienced professionals with disabilities as members of The Lime Network to learn of all candidate opportunities, including scholarships, internship and full time careers with our corporate partners, recruitment receptions, partner events, The Lowercase d Blog, professional development webinars and more. We welcome all interested parties as Friends of The Lime Network.
About Lime Connect: Lime Connect is a global not for profit that is rebranding disability through achievement by attracting, preparing and connecting highly accomplished individuals with disabilities for careers with the world's leading corporations. Our goal is to break stereotypes and lead all companies to realize the importance, and value, of employing people with disabilities at every level of education, talent and ability.
###