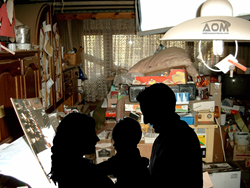 ...family members...are conflicted about their love for the hoarder and disdain for their living situation
(PRWEB) September 16, 2015
Clutter is a big contributor to family tension. Excess clutter can be dangerous to people around, both internally and externally. Family members involved in the life of a hoarder feel the direct impact of compulsive hoarding, and such an impact can affect their physical and their psychological health and result in the destruction of a family. Though the ramifications of hoarding can be great, there are solutions. Address Our Mess is now taking the initiative to help a family take on the battle against the clutter! Address Our Mess has a new perspective on hoarding situations involving family members, and no longer focuses solely on the mess at hand but also strives to aid the people involved.
Excessive clutter has a negative impact on the household itself. A lack of functional living space is a main issue of such clutter. Rooms and hallways can be obstructed with belongings to the point where nothing is accessible. Piles of items can make rooms unusable. A bathroom full of clutter may prohibit the use of a shower or bathtub, sink, and even a toilet, resulting in a hygiene concern. An inaccessible kitchen can result in lack of groceries and food preparation and force families to turn towards other means of food such as eating or ordering out, which can in turn impact personal health and finances. In addition to prohibiting the use of these rooms, the lack of ability to use what is in the household can take a financial toll on the family, as previously mentioned with the example of food source. The costs of the belongings themselves can add up, but additional costs such as restaurants and even extra storage spaces add up over time.
Aside from being unappealing to the eye and an inconvenience to household tenants, clutter that results from hoarding can impact the safety and well-being of all those residing in the residence. Obstructed pathways create eminent physical danger to anyone trying to navigate the house. Tripping is a possibility, as belongings may be strewn out across the floor. Injuries can result if someone trips and falls, possibly cutting themselves or breaking a bone. If objects reach high levels, they may become a potential hazard that could fall and cause injury to anyone in their path. If an object is too close to an electrical or heat source, such as covering an electrical outlet, it could become a fire hazard. If a fire occurs, clutter can prevent individuals within the home from escaping and hinder the efforts of firefighters as well as put their lives in danger. The weight of objects can also threaten the structural integrity of a home. If there is water damage or a weakened structure, additional weight of excess clutter can lead a floor to collapse. Hoarding also causes other forms of conflicts other than dangers of the household and clutter causing physical harm to those present. Not only can hoarding put off those residing in the household, but it can also lure additional company – the unwanted kind. Uninvited house guests such as insects and rodents can become a problem. These guests can cause household mayhem, disturbing the family and possibly even bringing sicknesses with them. Sometimes threats are not always outwardly visible. Hoarding can also hinder the internal well-being of the residents. The inhalation of dust, mildew, fungus and more can pose health concerns. Health concerns can vary, being anything such as headaches, respiratory problems, allergies and more. Such dangers of hoarding may not be evident for a while as they secretly linger, waiting to strike.
The compulsive hoarding habits of an individual can result in emotional complications for family members. Family may develop feelings of frustration with the hoarder and the situation. They may feel overwhelmed because the clutter of the house may clutter their minds with worries. Some family members may become resentful, blaming the hoarder for their present living conditions. A sense of embarrassment may also become an issue. Such emotional conflicts can have an outward impact on the overall family relationship, causing tension and additional complications. One such complication could be the issue of social isolation. A child embarrassed of a hoarding parent may cut his or herself off from social circles, avoiding contact with his or her peers due to feelings of embarrassment, for example. This child may refuse to let others into his or her life, fearing strangers will discover the kinship with a hoarder or even go as far as seeing the living conditions. In some cases, a hoarding situation can also lead to divorce/separation. A spouse or partner may not be able to handle such extreme living conditions and the emotional turmoil that accompany them. If children are involved, a divorce can lead to conflict when determining parental rights, and an emotional division can develop due to resentment that has built up over time.
A cluttered household becomes a physical representation of the mess it has created for the family itself. Living with the complications and concerns of such a situation leaves minds cluttered with worrisome thoughts and creates an internal chaotic battle for family members who are conflicted about their love for the hoarder and disdain for their living situation. Personal belongings may be an individual matter but when those belongings impede on the lives of others it may be time to reevaluate the situation. Hoarding is not a solo situation; anyone present within the hoarding home is involved and needs to be considered. The ongoing battle between clutter and clan will disrupt the household and cause increased tension, so help is necessary to resolve the matter. Therapy for the hoarder, as well as the family, is a good form of treatment. Address Our Mess is one outlet for advice and clean-up solutions and even aids in the search for new solutions to the hoarding conflict. No one should be left behind in a family; it is important to work together towards a solution to prevent a divided family.