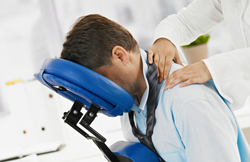 We do workshops, lunch and learns, and lunch and massages for local businesses and to the general public. We want to spread our message of natural healthcare and serve the Greenville area.
(PRWEB) September 17, 2015
Did you know that the AlignLife offices in the Greenville area do community outreach programs on a weekly basis? They do this in local businesses, public establishments and even in their own offices. Their new Community Outreach Manager, Allie Johns, makes it her mission to contact as many businesses as possible to see if there is something that the AlignLife offices can do to serve them.