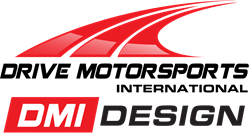 Hillsboro, Oregon (PRWEB) September 26, 2015
Motorsports marketing agency, Drive Motorsports International, announces the addition of a new creative design and production department to further service its clients throughout the motorsports industry.
The agency, who is known for its driver representation as well as its corporate consulting services and the brokering of unique deals within the motorsports industry has added a new design department that will service clients looking for progressively-modern and powerful driver websites, mobile apps, sponsorship proposals and marketing materials, as well as content marketing and social media services.
"Our new design department has been up and running for the past few months now and we are excited to be officially announcing it, its been a tremendous success," Veronica Stevens, a DMI spokeswoman shared. "Its a natural progression for us as we continue to grow."
The new department will act as a separate area of the agency, complimenting its larger font end services.
"We've seen an increased demand for a number of these services over the years and we have always referred them out only to experience disappointing looking designs and overly lengthy delays in delivery and ultimately just really bad and outdated designs that didn't meet our ultra-high expectations. We have extremely high standards here, and are known for our edge and our differentiation, and knew we needed to do something about it. Earlier in the year our ownership made the decision to bring the services in-house where we have complete control and can deliver highly modern and progressive designs with that DMI edge at affordable prices," Veronica continued.
About Drive Motorsports International:
Drive Motorsports International (DMI) is a bold and progressively advanced driver representation and corporate consulting powerhouse primarily focused on igniting high profile professional drivers and corporate brands together through one of a kind solutions-driven techniques. Drive Motorsports International has established itself as the go-to next generation agency in the industry and leads the way with the most evolved and results oriented services across motorsports. The agency's commitment to excellence and unique results has established itself as a leader in the new age world of the racing industry. For more info please visit http://www.drivemotorsportsinternational.com
About DMI Design:
DMI Design is the state of the art design and production services department of Drive Motorsports International offering a wide array of ultra-modern and powerful designs and unique support services that provides unmatched excellence across the motorsports industry. The department provides affordable, top of the line creative design services from sponsorship proposals, marketing materials, brand design, car renderings, website design, content marketing, merchandise, and so much more! For more info please visit http://www.drivemotorsportsinternational.com/design-dept