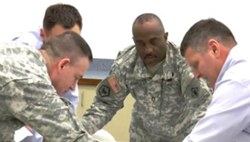 Near Tacoma, WA (PRWEB) September 17, 2015
On Monday, September 21, service members and military spouses from every military branch will gather at the McChord Club to participate in the Military Transition Seminar (MTS), a day-long course created-and-delivered by veterans at installations around the world. The USAA-sponsored course is a strategic planning and transition preparation program that is free of charge and open to all ranks and branches, as well as spouses.
The MTS supports the current mandated transition preparation training known as SFL-TAP, providing a hands-on workshop that shares the Lessons Learned and best practices of veterans who have made the successful transition to the civilian workforce. These veterans are employees of the VOSB (Veteran Owned Small Business) Afterburner, Inc., a leadership development and management training company comprised of veterans who share their successful transition examples with MTS participants and train them to do the same.
Since December 2013, the MTS has been delivered 14 times across nine installations, equipping over 1500 veterans and their spouses with the insights and techniques to create more than 1400 transition and career development plans.
The MTS curriculum is based on Down Range: A Transitioning Veteran's Career Guide to Life's Next Phase (2013), a transition guidebook co-authored by Afterburner Founder & CEO, James "Murph" Murphy, and Director of Learning & Development, Retired Navy Cmdr. William M. Duke.
Leveraging 19 years of corporate training and consulting and the collective transition experiences of Murphy, Duke and Afterburner's 50+ veteran team members, Down Range introduces a unique transition perspective and provides a holistic approach for planning and achieving post-transition success. Focused on a values-centric desired future state, then working backwards to the initial post-transition Course of Action, ensures the service member remains strategically aligned to their goals.
"[The Military Transition Seminar was] by far the most insightful 8 hours I have ever had the pleasure of attending," writes recent MTS participant MAJ (ret.) Joe Kearney. "Anyone that has the time (if not make the time) should attend this seminar...Drive, fly or take a bus...it may be the single most important day you spend as you plan the next step in your career after the military."
Six more seminars remain on the 2015 MTS schedule, including the program's first international delivery this October. The Afterburner and USAA teams will travel to four U.S. installations in South Korea the last week of the month, working with troops at USAG Daegu, Camp Humphreys, USAG Casey and USAG Yongsan.
The September 21 program at Joint Base Lewis-McChord will take place from 0700-1630, dress is business casual unless duty dictates otherwise. Learn more about the Military Transition Seminar, review upcoming dates and locations as well as register online at http://www.afterburner.com/programs/veteran-transition. For additional information, contact Roger Nixon, Director of Embed via email at rnixon@afterburner.com or by phone at (855) 599-0241.
______________________
About Afterburner®
Afterburner Inc. was founded in 1996 by U.S. Air Force fighter pilot James "Murph" Murphy and trains organizations around the world in the simple, scalable improvement processes of Flawless Execution. Afterburner brings elite military precision to top corporations around the world with a client list that includes over 85% percent of the U.S. Fortune 50. Afterburner has ranked on the Inc. 500/5000 List of America's Fastest Growing Companies five times and has been featured in leading publications like The Wall Street Journal, Businessweek, Financial Times, Newsweek, Slate, Sports Illustrated and Atlanta Business Chronicle. Afterburner also has appeared on CNN, ABC, CNBC, Fox News, HLN and Bloomberg News, among others. To learn more about Afterburner's innovative approach to building elite teams and Flawless Execution, visit http://www.Afterburner.com or call (888) 982-6764.