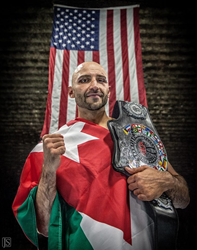 I've always believed in myself to beat any man in front of me, and this fight won't be any different.
Lockport, NY (PRWEB) September 15, 2015
It's been a lifetime in the making. Finally, a date, an opponent and a location have been set. Western New York native Amer Abdallah, the No. 2 ranked kickboxer in the world will challenge defending WKA World Champion Gareth Richards of Wales, U.K. on Nov. 21 in Lockport, N.Y.
Abdallah, who currently boasts an undefeated 16-0 record, isn't concerned about the biggest fight of his life landing after his 38th birthday.
"I could have won a world title while I was in my 20s, but I decided to pursue my business ventures and make my professional fighting career a second priority," Abdallah said. "I fight because I want to, not because I have to. I've always believed in myself to beat any man in front of me, and this fight won't be any different."
Having been raised upstate in Lockport, Abdallah has had the luxury of fighting at home throughout most of his professional career.
"One of my business ventures was starting Lace Up Promotions, where I became my own promoter. I didn't have to answer to anyone or fight anywhere I didn't want to. I built my team, structured the organization and developed several markets," he said.
Currently, Lace Up Promotions hosts events in Buffalo, Rochester, and Syracuse, as well as in Connecticut and Rhode Island.
"We have a great organization and having me win a world title only adds to Lace Up Promotions' track record," he said. "With the financial challenges to land such an event in Lockport, we had some great people behind us help get the job done."
Abdallah fought hard to land a world title fight in his hometown, and for the first time in Western New York's history, a local will fight for a world title in the area.
"I can't tell you how proud I am that we were able to get this done," he said.
With his family flying into the Buffalo area from all over the world — Jordan, Dubai, New York and California — he said it is a humbling feeling. What gives him even more pride is that his daughter will be watching him fight for the first time.
Team Abdallah will hold training camp in Las Vegas at the world-famous Mayweather Boxing Club, under the direction of Head Boxing Coach Jeff Mayweather and Kickboxing Coach Dewey Cooper. Abdallah has big guns in his corner and it's just the way he likes it.
"Amer will be stronger, faster and sharper than you all have ever seen him before," Cooper said. "I'm proud to be a part of Team Abdallah and am confident that Amer will seize this moment and take home the world title."
"I'm the best kickboxer in the world, and I have two world champions in my corner. We can't lose."
Tickets will go on sale at 5 p.m. (EST) on Oct. 16. Visit ticketfly.com.
For more information and to follow Lace Up Promotions, follow them on Facebook at Lace Up Promotions or on their website at http://www.LaceUpPromotions.com.