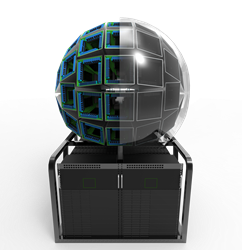 "This technology represents an exciting advance towards making supercomputing mainstream"- Ray Spiteri Professor at the University of Saskatchewan
Richmond, British Columbia (PRWEB) September 17, 2015
Appairy introduces an innovative, revolutionary supercomputing technology that delivers speeds many times faster than existing systems, surpassing them by orders of magnitude and representing a new era for cloud services in industries such as Telecom, Medicine, Cyber Security, Finance, the Internet of Things (IoT), and University Research. These are the first systems based on unique patent-pending designs that boost performance through core concentration of large parallel computing arrays. The systems use 3D structures, multi-core chip sets, and co-processors.
Company CEO and Founder, Douglas Kind, states,"Never before has there been a concentration of computing power operating in such close proximity of other core chip sets. These systems are also enabled with embedded artificial Intelligence services — a revolutionary technology sure to disrupt current supercomputing mindsets and make supercomputing commonplace in both the cloud and enterprise."
Designed specifically for a wide range of workloads, the Appairy eHive™ system cost-effectively scales from approximately 50 processor cores to 80,000 cores, combining 50 terabytes to more than 50 petabytes of usable storage capacity with no compromise in performance. The eHive™ system also features switching cores that move data at rates of between 3 to 12 terabytes-per-second in its server core. With an increasing market demand for larger, faster, and more productive high performance computing data platforms, the key differentiator in the Appairy eHive™ system is that the product is specifically designed to provide users with an integrated, scalable solution that is small, easy to install and maintain, and contains integrated battery backup. The eHive™ is one of the first designs to use tightly coupled fast cluster controllers that enable low-cost terabit server transfer speeds.
The Appairy eHive™ server platforms were created to meet the demand of high work load and complex processing, and medical services needs, e.g., in the case of cardiology procedures, reducing current desktop time of up to 36 hours to a minute or less. According to University of Saskatchewan Computer Science professor Raymond Spiteri, "This technology represents an exciting advance towards making supercomputing mainstream. We are now one step closer to enabling cardiologists and surgeons to have simulations inform practiced in real time. So, for example, the effects of ablations or other procedures can be tested out in silico during an operation just before they are performed in vivo."
Founded in 2013, Appairy Supercomputing is a High-Tech Canadian Company with a focus on developing next-generation parallel processing supercomputing servers and software solutions for the Commercial and Mobile Cloud Computing sectors. Appairy provides next-level supercomputing performance through its compact ultra high-performance eHive™ servers.
Additional information on the Appairy eHive™ system, including a brochure and technical details, can be found on the Appairy eHive™ product page on http://www.appairy.com.
Systems are currently in development and projected for first customer release at the end of Q2 of 2016.
For media and interview inquiries please contact: dkind(at)appairy(dot)com
Douglas Kind CEO