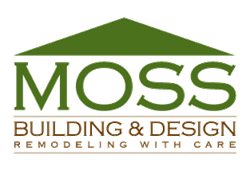 Keith's experience, honesty and focus on our company's guiding principles make him a good selection
Chantilly, VA (PRWEB) September 17, 2015
Moss Building and Design, a home remodeling company in Chantilly, VA, is pleased to announce the appointment of Keith Towery as an addition to the MOSS team.
Keith Towery has been appointed as controller and director of fleet and facilities. He is responsible for oversight of all finance, accounting and financial reporting activities, and manages the operational aspects of human resources. He has worked in the construction industry for five years, but has been a controller for more than 19 years. His natural progression through the industry has led him to his position at MOSS and he is a solid addition to the team.
His strong technical accounting skills and experience overseeing financial and operational controls make him a strong fit for his new role. "Keith's experience, honesty and focus on our company's guiding principles make him a good selection," said CFO, Pete Hampel. So far Keith has been most impressed with the culture at MOSS. "What makes my position the most enjoyable are the people..It's a comfortable place to work."
Keith was born in Maryland but has lived in Virginia for most of his life. Before his first job as a staff accountant, Keith earned his bachelor's of science degree in Accounting from George Mason University. He enjoys camping, fishing and the outdoors, as well as spending time with his family.
MOSS describes the three elements that sets itself apart from other home improvement companies as trust, transparency and character. Keith's comprehensive skill set and background in his field enhance each element of what makes MOSS different.
About Moss Building & Design and Moss Home Services:
For home improvement in Northern Virginia, you can count on Moss Building & Design. Moss Building & Design and Moss Home Services are an award-winning residential remodeling and home services company located in Chantilly, Virginia.
Since 2001, MOSS has established a reputation for excellence in remodeling additions, kitchens, bathrooms, basements and home services throughout Northern Virginia. Their customers see them as a trusted partner, and MOSS is very proud of their exceptional 70% repeat customer and referral rates. Moss Building & Design has won consumer awards from Angie's List for five consecutive years and also has an A+ rating from the Better Business Bureau as well as many industry building and design awards.