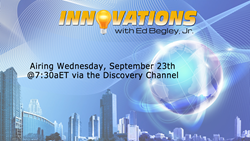 This episode is jam-packed with insightful information that is sure to enlighten and educate.
Jupiter, FL (PRWEB) September 21, 2015
DMG Productions announces the upcoming airing of Innovations with Ed Begley, Jr., scheduled to broadcast on Wednesday, September 23, 2015 at 7:30 a.m. ET and 7:30 a.m. PT, via Discovery Channel.
Innovations will showcase Kymeta Corporation. Audiences will learn about its electromagnetic metamaterials, which allows their ultra-thin Ku- and Ka-band antennas to use a holographic approach to electronically acquire, steer, and lock a beam to any satellite, with no moving parts.
This episode will educate audiences on the Software Products Division at Ternion, which is responsible for the development of FLAMES®, a family of commercial off-the-shelf (COTS) software products that provide the framework and all basic functionality needed for constructive simulations. Viewers will learn how Ternion uses FLAMES to develop state-of-the-art computer programs that simulate complex military battles to help train the warfighters of our nation and our allies.
The show will also focus on SurePayroll, an easy online payroll company that combines industry-leading technology with award-winning customer service. Spectators will learn about the technology behind SurePayroll, and how the service calculates wages, pays employees and automatically pays and files federal, state, and local payroll taxes automatically.
In addition, viewers will learn all about Digital Insight, and its focus on developing and bringing to market next generation tools and solutions, such as biometrics, wearables and location-based services that enable banks and credit unions to remain competitive and delight their customers.
"This episode is jam-packed with insightful information that is sure to enlighten and educate," said Sarah McBrayer, Creative Director for the series. "We look forward to bringing this information to our viewers."
About Innovations & DMG Productions:
Innovations, hosted by award winning actor Ed Begley, Jr., is an information-based series geared toward educating the public on the latest breakthroughs in all areas of society. Featuring practical solutions and important issues facing consumers and professionals alike, Innovations focuses on cutting-edge advancements in everything from health and wellness to global business, renewable energy, and more.
DMG Productions (responsible for creating the Innovations show) includes personnel specialized in various fields from agriculture to medicine, independent films to regional news and more. Our field producers work closely with experts in the field to develop stories. This powerful force enables us to consistently produce commercial-free, educational programming that both viewers and networks depend on.
For more information visit: http://www.InnovationsTelevision.com or contact Sarah McBrayer: (866) 496-4065 x 802 or: sarah(at)dmgproductions(dot)org.