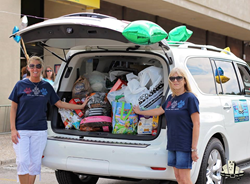 "Sewell Infiniti of Dallas has been such a great partner." Joette White President of Park Cities Pet Sitter
Dallas, Texas (PRWEB) September 15, 2015
Park Cities Pet Sitter is Partnering with Sewell Infiniti of Dallas to host their third annual "Stuff the SUV" event at the Pet Supplies Plus store at 6060 E. Mockingbird Lane on Saturday, October 10th. From 11am until 4pm that day, Park Cities Pet Sitter staff and volunteers from non-profit animal welfare organization "Angie's Friends" will be soliciting the donation of pet supplies to aid Angie's Friends in their mission of caring for abused and neglected dogs in the economically depressed areas of Dallas.
This is the third consecutive year that Sewell Infiniti of Dallas will donate the use of a brand new, extra-large Infiniti SUV for the day---so that donors can fill it to the roof with pet supplies. Joette White, President of Park Cities Pet Sitter, is grateful for Sewell Infiniti of Dallas' participation, and explains why they are so important to the success of the supply drive.
"Sewell Infiniti of Dallas has been such a great partner," says White. "For three years they have donated--for the day—the use of a beautiful Infiniti SUV, and allowed us to decorate it proudly with balloons. We park the shiny Infiniti vehicle sideways in front of the Pet Supplies Plus store entrance, open the doors, and then turn on music from the stereo to generate excitement. You can't help but notice the vehicle and the crowds of people as you drive by the store, and you definitely can't miss it if you come to the store that day to shop. Without the Sewell Infiniti vehicle, we simply would not get the attention necessary to accumulate as many donations as we have."
During the "Stuff the Suv" event, Park Cities Pet Sitter staff provide a list of suggested donations to store shoppers, and asks them to donate if they can. This year, suggested donated items for Angie's Friends include:

Dog and cat food (dry or canned)
Dog houses (almost flat, slightly slanted roofs are preferred or the igloo style large size)
Bales of hay or straw for the wintertime
Metal buckets for use as water bowls
Sturdy wire kennels in medium and large sizes
Pet Supplies Plus, Petco, PetSmart or Home Depot gift cards
Flea and tick preventative such as K9 Advantix II or Frontline Plus for dogs over 50 pounds
Leashes (no retractables)
Gift cards to City Vet
Gas cards
Angie's Friends is named for the grassroots efforts of its founder, Angie Manriquez, who is affectionately known as "The Fairy Dogmother of Dallas." With the help of her supporters, Ms. Manriquez spends the majority of every day going house to house to feed, water, medicate, provide shelter for, and pat the heads of dogs that have extremely low quality of life, living on short chains in neglectful and abusive situations, never feeling wanted. Angie's Friends relies exclusively on donations to continue their work.
Park Cities Pet Sitter will collect supplies and monetary donations on behalf of Angie's Friends on Saturday, October 10th, and will continue to do so through November 7th, 2015. To learn more about Angie's Friends and the "Stuff the SUV" event, visit http://www.pcpsi.com and click on Events.
About Park Cities Pet Sitter: PCPSI has served the Dallas area 7 days a week, 365 days a year since 1992. Pet sitting, daily dog walks, pet taxis, overnight sitting, pet supply shopping, litter box cleaning and dog training are all part of the services PCPSI offers. Park Cities Pet Sitter is bonded and insured, and all sitters are employees--not independent contractors. A manager is on-call 24 hours a day to handle any emergencies. Additional information about Park Cities Pet Sitter can be found on their website at http://www.pcpsi.com.
About NAPPS: NAPPS is the only national non-profit trade association dedicated to serving the needs of professional pet sitters. The Association aims to help the pet owning public, those interested in pet sitting, and professionals engaged in the in-home pet care industry by fulfilling its vision statement, serving as "the most respected authority in professional pet sitting." It does so by providing the tools and support to foster the success of its members. Additionally, pet parents can benefit from NAPPS' free resources including a disaster preparedness guide, tips on how to select a pet sitter, and a nationwide referral service. Visit http://www.petsitters.org for more information.