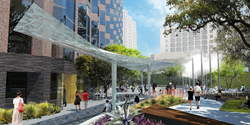 Part park and part marketplace, Fareground will transform the street-level sunken plaza and interior lobby of One Congress Plaza into a modern, inviting and active downtown hub for professionals, residents and visitors of Austin.
Austin, Texas (PRWEB) September 17, 2015
Today, Parkway Properties, Inc. (NYSE: PKY), in connection with dwg. and Michael Hsu Office of Architecture, is proud to announce an exciting new project coming to a highly-visible, yet underutilized corner of downtown Austin. Fareground at One Eleven Congress is a reimagining of the plaza and lobby space at One Congress Plaza, the iconic blue-lighted stair-step building at the corner of 2nd Street and Congress Avenue. Part park and part marketplace, Fareground will transform the street-level sunken plaza and interior lobby of One Congress Plaza into a modern, inviting and active downtown hub for professionals, residents and visitors of Austin.
"One Eleven Congress has been an integral part of the Austin skyline since its completion in 1987, so we wanted to update the currently underutilized ground-level features of the building while creating something that would benefit the whole Austin community," said Michael L. Fransen, Senior Vice President and Managing Director of Parkway. "We've collaborated with two of the best design teams in Austin, dwg. and Michael Hsu Office of Architecture, to design a dynamic and diverse space that is open and available to the public, and pays homage to the history of the space, while bringing it into the future."
The outdoor plaza will be reinvented by landscape architecture firm dwg., as a park and gathering place open for use to the entire community, with sustainable landscaping, an innovative water feature, family-friendly features, outdoor seating and an amphitheater for outdoor events. Meanwhile, the indoor lobby of the building will be renovated and designed by Michael Hsu Office of Architecture into an upscale eatery hall with the feel of other contemporary city marketplaces–including food and drink vendors, as well as creative meeting and co-working spaces.
"One of the things we're most excited about with Fareground is that this space will continue to serve the downtown community for years to come," said District 9 representative Mayor Pro Tem Kathie Tovo. "It will set an innovative example of how we can leverage existing, outdated structures in our downtown and recreate a sense of activity and openness to the public, with the wants and needs of Austin families in mind."
Once complete, Fareground will be an inside-outside, eat-drink, rock-play, early to rise, late to close hub within walking distance from Congress Avenue and 2nd Street. Both the indoor and outdoor space will be updated into a downtown destination, with accessible dining, coffee and happy hour options, and a sustainably-designed outdoor space that can be used for relaxing, eating, informal gatherings or live music and events, with possibilities ranging from nighttime concerts to early morning yoga, all coordinated by a dedicated staff programmer.
"Downtown Austin is known as a hub of activity for the city," said the President and CEO of the Downtown Austin Alliance, Dewitt Peart. "And Fareground was created to be a microcosm of this–reflecting the energy and essence of the city of Austin."
Construction is expected to begin in fall 2015 with scheduled completion in spring 2017. Unlike any other project taking place in downtown Austin, Fareground has the unique ability to contain the project within the boundaries of the existing space, significantly reducing the impact on downtown neighbors and traffic.
To stay up-to-date about Fareground at One Eleven Congress, visit FaregroundAustin.com to learn more about the project.
###
ABOUT PARKWAY PROPERTIES
Parkway Properties, Inc. is a fully integrated, self-administered and self-managed real estate investment trust specializing in the acquisition, ownership, development and management of quality office properties in higher growth submarkets in the Sunbelt region of the United States. Parkway owns or has an interest in 44 office properties located in seven states with an aggregate of approximately 16.2 million square feet of leasable space at July 1, 2015. Fee-based real estate services are offered through wholly owned subsidiaries of the Company, which in total manage and/or lease approximately 4.2 million square feet for third-party owners at July 1, 2015.
ABOUT dwg.
dwg. is a different landscape architecture firm that is passionate about design, attention to detail and collaboration. The firm is recognized nationally for modern concepts, meaningful relationships and transparent communication. dwg.'s efforts are directed at projects in central business districts and adjacent corridors, resulting in a focused knowledge in all aspects of urban design. The firm leads in sustainable and low-impact development and collaborates closely with expert design teams and city staff to successfully implement project visions. dwg. has the leadership, experience and expertise to provide innovative design solutions for the urban architectural landscape.
ABOUT MICHAEL HSU OFFICE OF ARCHITECTURE
Michael Hsu Office of Architecture was formed in 2005 with the goal of producing locally-engaged, design driven architecture and interiors in Austin. Through the active collaboration between designer, client, consultant, and craftsman, MHOA embraces the challenges of site and budget to inspire highly creative, cost-effective solutions. With diverse projects ranging from mixed-use developments to original commercial interiors and residences, MHOA advocates a simple, edited design palette, using available materials and techniques to produce work that is functional, engaging and honest.
Links:
http://www.FaregroundAustin.com
Forward Looking Statements:
Certain statements in this press release that are not in the present or past tense or that discuss the Company's expectations (including any use of the words "anticipate," "assume," "believe," "estimate," "expect," "forecast," "guidance," "intend," "may," "might," "outlook," "plan," "potential," "project," "should," "will" or similar expressions) are forward-looking statements within the meaning of the federal securities laws and as such are based upon the Company's current beliefs as to the outcome and timing of future events. There can be no assurance that actual future developments affecting the Company will be those anticipated by the Company. An example of a forward-looking statement is the timing of commencement and completion of construction projects. These forward-looking statements involve risks and uncertainties (some of which are beyond the control of the Company) and are subject to change based upon various factors including, but not limited to, the following risks and uncertainties: changes in the real estate industry and in performance of the financial markets; the actual or perceived impact of U.S. monetary policy; competition in the leasing market; the demand for and market acceptance of the Company's properties for rental purposes; oversupply of office properties in the Company's geographic markets; the amount and growth of the Company's expenses; customer financial difficulties and general economic conditions, including increasing interest rates, as well as economic conditions in the Company's geographic markets; defaults or non-renewal of leases; risks associated with joint venture partners; risks associated with the ownership and development of real property, including risks related to natural disasters; risks associated with property acquisitions; the failure to acquire or sell properties as and when anticipated; termination or non-renewal of property management contracts; the bankruptcy or insolvency of companies for which the Company provides property management services or the sale of these properties; the outcome of claims and litigation involving or affecting the Company; the ability to satisfy conditions necessary to close pending transactions and the ability to successfully integrate businesses compliance with environmental and other regulations, including real estate and zoning laws; the Company's inability to obtain financing; the Company's inability to use net operating loss carry forwards; the Company's failure to maintain its status as a real estate investment trust, or REIT, under the Internal Revenue Code of 1986, as amended; and other risks and uncertainties detailed from time to time in the Company's SEC filings. Should one or more of these risks or uncertainties occur, or should underlying assumptions prove incorrect, the Company's business, financial condition, liquidity, cash flows and financial results could differ materially from those expressed in the Company's forward-looking statements. Any forward-looking statement speaks only as of the date on which it is made. New risks and uncertainties arise over time, and it is not possible for us to predict the occurrence of those matters or the manner in which they may affect us. The Company does not undertake to update forward-looking statements except as may be required by law.