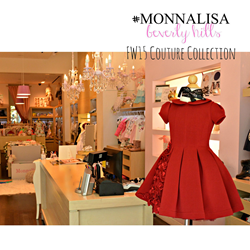 Luxe details meet children's clothing in an unbelievable way in Beverly Hills.
Beverly Hills, CA (PRWEB) September 17, 2015
FW15 has arrived at Monnalisa Beverly Hills and more is still to come. The premier luxury children's apparel boutique has the best selection of the season, including the gorgeous Lady & The Tramp collection. A collection story that includes scenic landscape neoprene full skirts and easy to wear soft dresses sporting silk images of the classic puppies.
With the attention paid to detail like a small company but the exposure and accessibility of a brand known around the world, Monnalisa has organically built up its popularity and respect by remaining passionate. Still family owned, Monnalisa has become a world leader for children's apparel, seen on celebrities like Jessica Alba's children, Honor and Haven, and Victoria Beckham's daughter, Harper.
Beautifully displayed, the boutique has become a wondrous destination to walk into. Check in with MonnalisaBH throughout the season on social media for events that celebrate little girls and the beautiful fashion meant to adorn them. Upcoming in October is #TryTheDress. #TryTheDress awards our guests the opportunity to share the experience of #Monnalisa in an in-store environment that celebrates fashion and individuality.
Beginning with Bebe' which comes in 6 months to 24 months includes Tweety inspired track suits with silk drawstring bows. Bebe's own chic collection gives us elegant pleats, and champagne metallic embroidered flower bundles over tulle.
Bimba, 2 to 12 years has a multitude of story collections within it. Including our favorite, Lady & the Tramp collection printed with romantic landscapes and embellished sweater tunics.
Chic, 4 to 14 years has full striped skirts with desirable taffeta material and gorgeous lace dresses in romantic reds with stoned headbands reminiscent of tiaras.
Jakioo, 6 to 16 years includes a Pop! story. Beloved fast food printed in a fun polka dot pattern, making fashion unique, cute and quirky.
Monnalisa FUN, 4 to 12 years, has ideally captured the sporty side of life while ensuring we stay fashion forward with camp butterfly prints embellished with gold studs.
Monnalisa Couture, 4 to 14 years, features a limited edition of handmade dresses, this year flowing with neoprene bouquets, and dazzled with descending crystals, with layers of tulle for drama.