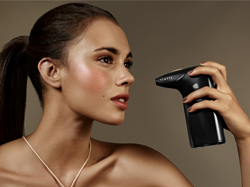 'TEMPTU Air is the culmination of 30 years of TEMPTU's leadership in airbrush technology and innovation,' said Samantha Mandor, Chief Creative Officer and Co-Owner of TEMPTU.
(PRWEB) October 14, 2015
Discover the same flawless airbrush results of a professional makeup session with TEMPTU's patented Airpod™ and Atomized AirFlow™ Technology. It transforms their professional SilkSphere™ Makeup into a micro-fine mist that floats onto the skin, creating weightless layers of the most even, and thorough coverage -- while using less makeup to deliver a truly flawless finish.
"TEMPTU Air is the culmination of 30 years of TEMPTU's leadership in airbrush technology and innovation," said Samantha Mandor, Chief Creative Officer and Co-Owner of TEMPTU. "Our patented technology combined with our iconic formula provides professional, flawless airbrush results without having to master complicated techniques. This is truly a beauty game changer."
Featured Benefits:

Luminous, soft-focus finish: A weightless, micro-fine mist creates even, skin-perfected coverage that is always flawless, never fake.
Customizable coverage: Three-speed air flow and soft-touch control let you adjust the amount of makeup applied, offering sheer, medium or full coverage, spot conceal, highlight and contour.
Imperfection correction: Precision application works as the ultimate "magic eraser" for fine lines, pores, blemishes and discoloration.
Pro performance and staying power: Instantly blended, long-lasting finish, engineered to meet even the highest standards of pro makeup artists.
Simplified beauty routine: All-in-one-tool addresses multiple beauty needs, replacing brushes, sponges and countless products.
Proven Results
In a clinical study after using the TEMPTU Air, participants said:

TEMPTU Air delivers more complete coverage than foundation applied with a makeup brush
4 out of 5 users stated that skin looked flawless and not like caked on makeup
92% of users said skin looks more hydrated
Portable
The new TEMPTU Air was intelligently designed for handheld use and ultimate portability. Powered by the smallest air compressor available, TEMPTU Air offers reduced vibration and noise for a smoother, lighter air flow and features an ergonomic design that fits comfortably in your hand during face or body makeup application. Weighing just 8.9 ounces, it's ultra-lightweight, boasts a globally-compliant micro-USB port and a long-life rechargeable battery.
Precise
TEMPTU Air offers three speed settings-- light, medium, and full-- and a specially engineered SoftTouch Control for laser-precision control over coverage and application. Only air and makeup touch the skin, resulting in a perfect airbrush finish without harmful butane or propellants. With TEMPTU Air, makeup application is faster, simpler, and more hygienic than traditional application using brushes, sponges, or fingers.
Perfection
TEMPTU Air is compatible with all of TEMPTU's patented Airpod shades and formulas, including Foundation, Blush, Bronzer, Highlighter and Face Tan. Each Airpod formula contains TEMPTU's exclusive SilkSphere Technology, an advanced smoothing complex that mimics the appearance of flawless skin. The 4-in-1 formula delivers long-lasting, professional-quality performance, and a soft-focus finish that diminishes the appearance of pores, fine lines, wrinkles and even rosacea and acne scars.
Availability
TEMPTU Air is available now for $195. TEMPTU Air can only be used with TEMPTU Airpod Makeup, sold separately. Products can be purchased at select Nordstrom's, Bloomingdale's SoHo, QVC, Net-a-porter.com and http://www.temptu.com.
About TEMPTU, Inc,
TEMPTU is the authority in airbrush makeup, advanced beauty technologies, makeup applications and formulas. Founded in 1981, the TEMPTU PRO division is a destination for makeup professionals and is available in 50 countries and territories around the world through specialty retailers. The TEMPTU consumer division, created in 2009, is a destination for individuals seeking professional quality cosmetics for everyday use. For more information, visit http://www.temptu.com and http://www.temptu.com/pro