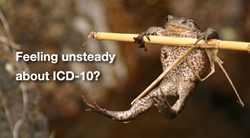 ICD-10...Even a minor revenue cycle disruption can have a significant working capital and cash flow impact on an organization...an effective rapid response can be as critical as the initial preparation
Knoxville, TN (PRWEB) September 16, 2015
Healthcare organizations anticipated that a transition from ICD-9 to the updated ICD-10 coding standard October 1, 2015, would require massive preparation—dedicated staff education, detailed technology advances that would ensure correct code selection and translation, and dual coding and testing—all in an effort to circumvent billing and coding disruptions. Yet even the most meticulous planning does not always preclude unforeseen obstacles from surfacing. And, for that very reason, effective preparedness must include a contingency plan—what to do when things don't go as projected.
PYA has launched an ICD-10 Rapid Response and Recovery Team™ to quickly help healthcare organizations address revenue cycle disruption, establish ICD-10 best practices going forward, and eliminate reliance on trial-and-error initiatives that can pose greater risks to organizations. Ranked by Modern Healthcare as the 9th largest privately owned healthcare consulting firm in the U.S., PYA offers a variable cost alternative—incurred only if, and when, needed—and is poised to help organizations by deploying objective, experienced, highly trained personnel who focus solely on timely, efficient resolutions to lessen the impact of depleting working capital and cash flow as a result of ICD-10 implementation.
"Even healthcare facilities with the best laid plans are subject to experience disruptions with the conversion to ICD-10. Even a minor revenue cycle disruption can have a significant working capital and cash flow impact on an organization," said PYA Principal, Denise Hall. "Establishing an effective rapid response, for times when things do not go precisely as planned, can be as critical as the initial preparation."
PYA's ICD-10 Rapid Response and Recovery Team™ is singularly focused on evaluating and resolving ICD-10-related issues organizations encounter. With clinical expertise in coding, documentation, and revenue cycle management, and an integrated team that includes physicians, nurses, executives, accountants, attorneys, data scientists, and policy analysts, PYA stands ready for rescue.
About PYA
For over three decades, Pershing Yoakley & Associates (PYA), a national professional services firm providing management consulting and accounting has helped its clients navigate and derive value amid complex challenges related to regulatory compliance, mergers and acquisitions, governance, business valuations and fair market value assessments, multi-unit business and clinical integrations, best practices, tax and assurance, business analysis, and operations optimization.
Founded in 1983, PYA's steadfast commitment to an unwavering client-centric culture has served the firm's clients well. PYA is now ranked by Modern Healthcare as the 9th largest privately owned healthcare consulting firm in the US. PYA is also ranked 103rd by INSIDE Public Accounting's "Top 200" Largest Accounting Firms. PYA affiliate companies offer clients world-class data analytics, professional real estate development and advisory resources, self-insured employer health insurance claims audits for Fortune 500 companies, wealth management and retirement plan administration, and business transitions consulting.
PYA is headquartered in Knoxville, Tennessee. For more information, please visit http://www.pyapc.com/