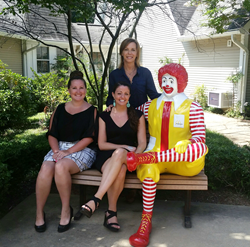 It is a great honor to partner with the Ronald McDonald House Charities to allow for our employees to volunteer their time, make a difference and spread awareness of all the great that comes out of this organization - Rick Wuest, CEO
Lanham, Maryland (PRWEB) September 16, 2015
Thompson Creek Window Company is proud to announce its partnership with the Ronald McDonald House Charities in Falls Church, VA, Washington, DC and Baltimore, MD. The mission of Ronald McDonald House Charities (RMHC) is to create, find and support programs that directly improve the health and wellbeing of children. RMHC focuses on the critical needs of children, providing a place to rest and refresh during their hospital care and any other support for families 24 hours a day, 7 days a week.
As a Mainstay Supplier of the RMHC of DC, Thompson Creek is providing a guest suite for families for an entire year, helping cover the fees it costs to run the House operations. Thompson Creek is also a Caring Partner for the RMHC of Baltimore, supporting capital improvements for the current facility and the expansion for future growth. As the Mid-Atlantic region's premier home improvement replacement products company, Thompson Creek also donated and installed 550 feet of gutter for the Falls Church, VA House and four windows for the Baltimore House. Thompson Creek has been collecting can pull tabs to support the program, signed up to prepare meals for families and also will be running the Red Shoe Shuffle 5K next year.
"It is a great honor to partner with the Ronald McDonald House Charities to allow for our employees to volunteer their time, make a difference and spread awareness of all the great that comes out of this organization", said Thompson Creek CEO Rick Wuest.
About Ronald McDonald House Charities
Ronald McDonald House Charities® of Greater Washington, D.C. eases the hardship of children's illness on families through programs that help children heal faster, cope better, and stay healthy. Their programs build bridges to health care for children in our community. RMHC of Greater Washington D.C. programs include: two Ronald McDonald Houses, the Ronald McDonald Family Room® at Children's National, and the KIDS Mobile Clinic/Ronald McDonald Care Mobile® in association with MedStar Georgetown University Hospital that provides "free" medical care for children in some of Washington D.C.'s most impoverished neighborhoods. RMHC DC is there for their families when they need it the most.
Ronald McDonald House Charities® of Baltimore is the only Ronald McDonald House in the state of Maryland. More than 35,000 families have stayed at the Ronald McDonald House Charities of Baltimore since its opening in June 1982. Ronald McDonald House Charities of Baltimore is open to families in need of respite care while their children are being treated at area hospitals.
About Thompson Creek
Thompson Creek Window Company is a privately owned and family-operated manufacturer and installer of energy-efficient home improvement replacement products. Founded in 1980, Thompson Creek Window Company began as a manufacturer of energy-efficient, maintenance-free vinyl windows. Since that time, Thompson Creek Window Company has evolved into one of the leading specialty home improvement contracting companies in the nation. The company's product mix includes replacement windows and doors and a clog-free gutter system. Thompson Creek Window Company is headquartered in Lanham, Maryland and began construction on a new 117,000-square-foot building in Upper Marlboro to house its new manufacturing and warehousing operations expected to be completed Spring 2016. Thompson Creek employs over 400 people in the Washington D.C. region.