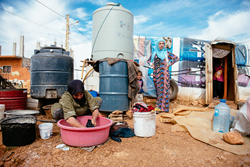 I saw many people who have risked everything they had left to flee for their lives.
Washington, DC (PRWEB) September 16, 2015
In testimony before the U.S. Senate Committee for Foreign Relations, a senior official with the global organization Mercy Corps tells of deteriorating humanitarian and security conditions in Syria and Iraq and warns of even greater troubles ahead. Michael Bowers, Vice President for Humanitarian Leadership and Response, highlights the spiraling humanitarian crises in both Syria and Iraq against the backdrop of the rise of the Islamic State. Bowers' appearance comes within days of his return from Lesbos, Greece, a landing spot for many refugees fleeing to Europe.
"I saw many people who have risked everything they had left to flee for their lives," Bowers said in prepared remarks for the panel. He adds that the refugees "are all survivors of a violent, protracted crisis that urgently requires a political solution. What we are seeing in Europe is an emergency within a much bigger and more complex crisis."
Bowers told the Senate committee that new challenges emerge continuously as the war in Syria and fighting in Iraq continue. In the face of what he described as "some of the most challenging, complex and difficult environments" Mercy Corps has ever faced, he said humanitarian agencies are responding heroically to the massive needs facing innocent civilians displaced by war.
Still, much more needs to be done, and Bowers called on Congress to act swiftly on four recommendations:
1. Provide adequate funding for humanitarian assistance and longer-term needs.
2. Support programs that address the underlying causes of conflict, build resilience and promote social cohesion.
3. Rethink risk and operations in high-risk environments by providing reasonable legal protections for humanitarian organizations.
4. Push the Obama administration to seek a political solution to the war in Syria and support the growth of a more accountable government in Iraq.
Read or download Bowers' written testimony to the United States Senate Foreign Relations Committee.