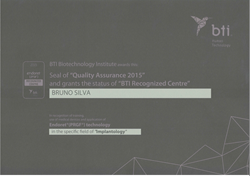 Smile With Confidence
Hove, East Sussex (PRWEB UK) 17 September 2015
BTI Human Technology is a renowned Spanish company that specialises in the manufacturing of the most versatile and innovative dental implants, prosthetic components and surgical instruments.
Founder and Clinical Director of the Brighton Implant Clinic, Dr. Bruno Silva, said the BTI accreditation was an honour for the clinic, due to the manufacturer's reputation for excellence.
"BTI produces products of the highest quality – meticulous craftsmanship and research goes into the development of the company's products. We're pleased and proud to be recognised and accredited by BTI as we strive to offer the very best in dental implants to our patients," Dr. Silva said.
"Brighton Implant Clinic works to provide its patients with affordable solutions, and the best possible dental implant treatments. Receiving this accolade is another positive assurance for our clients," he said.
A leader in its field, BTI has been researching and innovating since 1995. The company was established by a dental implantologist who conducts training for dentists and implantologists, with a focus on plasma rich growth factors that allows implants to integrate faster, and helps to graft bone in areas where bone is limited.
Brighton Implant Clinic was also recently awarded the DAMAS accreditation. DAMAS is an acronym for Dental Appliance Manufacturers Audit System; a quality management system designed specifically for the manufacturers of custom made dental appliances.
The DAMAS accreditation recognises the compliance of the clinic's laboratory with the necessary standards for quality when creating dental prosthesis.
For further information or images, contact:
Dr. Bruno Silva
Clinical Director
Brighton Implant Clinic & Advanced Dental Surgery
Tel: 0844 815 1414
http://www.brightonimplantclinic.co.uk
About Brighton Implant Clinic & Advanced Dental Surgery
Brighton Implant Clinic & Advanced Dental Surgery was established in 2009 in Hove, East Sussex and now has branches in Brighton, Hailsham and Worthing.
An experienced team of experienced, friendly and professional dental nurses, technicians and administrative staff await you at Brighton Implant Clinic & Advanced Dentistry.