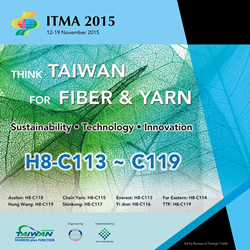 (PRWEB) October 05, 2015
Echoing the theme of ITMA 2015 that underscore the importance of drive towards sustainability in the entire textile and garment value chain, Taiwan Textile Federation (TTF) has called for 7 big players of fiber & yarn to stage on the coming ITMA 2015. These co-exhibitors are Acelon, Chainlon, Everest, Far Eastern New Century, Hung Wang, Shinkong and Yi Jinn. Here are the latest products these companies look forward to showcasing at the show.
Acelon
AceStatic® is a fiber with electrically conductive feature by using conductive material imparted on the surface of polyester fiber through a unique fiber spinning technique. AceStatic® can reduce the dust accumulation and avoid electrostatic field effect. It is suited for anti-explosion wears, clean-room garments, work wears, underwear and medical textiles.
Chainlon
Being a leading manufacturer of Nylon 6, Nylon 6 fiber, Nylon 66 and Nylon fiber air textured yarn, Chainlon has been engaged in green technologies in recent years. Greenlon® features recycled yarn, dope dyed yarn and deep dyed yarn. The manufacturing process can reduce energy consumption, CO2 emissions and eliminate wastewater. Greenlon® is appropriate for sports, fashion, industrial and other end uses.
Everest
Ever Seamless Body-mapping is made by seamless or jacquard machine. The superb compressibility can enhance the blood circulation, reduce muscle injury and improve athletic performance. It can be combined with mesh layer to achieve a good wicking effect. The 4-way stretch feature is body-mapped to ensure optimum comfort during use.
Far Eastern New Century
Toplumins® is a kind of luminescent yarn for those who go to night-sports like running and jogging. It can be self-luminous in dark environment after a short light-storage, thus enhance the safety of nighttime sports. It is suited for gloves, caps and shoes etc. Another latest product is PET two tone filament which provides multiple combinations of colors. It also provides thick and thin effects for those who endear a fashionable look.
Hung Wang
Hung Wang is specialized in horsehair braid (crinoline) and different types of braids including PP braids, paper braids, hemp braids etc. The crinoline made of 100% polyester is perfect for wedding dress and millinery use. Another specialty is a kind of straw braid consisting of 4% polyester and 96% paper yarn which attribute the properties of light weight and coolness.
Shinkong
ShinCool Fiber is a hydrophilic polyester fiber designed to enable an active temperature and humidity management. Its high hygroscopic characteristic with inherent anti-static function, is said to have better moisture regain rate of 2.2% than any regular fiber. Another version of ShinCool+ is featured hollow fiber which offer higher water absorption and liberation yet light weight.
Yi Jinn
Capitalizing on the soaring athleisure trend, Yi Jinn has zoomed in the development of functional textiles. Products like SG Stay Warm (moisture management and insulation), SG Color (environmental-friendly and energy saving PET color Yarn), SG Elastic (high shrinkage fiber) and SG TOP/NOP (spandex covering yarn), are materials ideal for athletic apparel that's useful and fashionable.
Thanks to a surge in global demand for fashion-forward athletic apparel, Taiwan's textile manufacturers are surfing the wave by catering to the wellness generation, getting the production more cost-effective and going greener. At ITMA 2015, TTF itself will also set up a booth of the "Textile Export Promotion Project" commissioned by the Bureau of Foreign Trade. In addition to display the highlights of 7 co-exhibitors, the booth will also deliver sourcing support and information on the Taiwan textiles supply chain to buyers and manufacturers looking for opportunities of new business contacts. Visit Taiwan Textile Federation and the co-exhibitors' booths and let Taiwan's fiber & yarn sector bring your idea to fruition. (Taiwan Textile Federation: Hall 8 C119)
For more information please visit "Think Taiwan for Textiles "web site http://365.textiles.org.tw/, Facebook http://goo.gl/a3mStp or get our convenient "app" for all the latest TTF news and events at http://goo.gl/FhEptu.