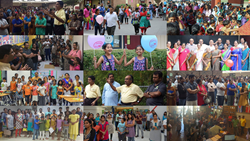 SIliconAndhra ManaBai School Year starts, 6+ year old kids join before 25th Sept
(PRWEB) September 18, 2015
The most successful Telugu language learning platform for non-resident Indian kids across the world, SiliconAndhra ManaBadi, has successfully launched its 9th academic year. SiliconAndhra ManaBadi has been successfully teaching children of Telugu diaspora with the motto "Serving the mother tongue is the service to future generations" for the past eight years. In a new initiative this year, SilionAndhra ManaBadi volunteer teachers are trained by experts from ManaBadi Curriculum team led by Santhi Kuchibhotla. Under this program the volunteer teachers will be certified soon for their ability to teach Telugu at various curriculum levels.
Speaking on this occasion, Raju Chamarthi, Dean of SiliconAndhra ManaBadi requested all Telugu people to enroll their children before the admissions for this year close on 25 Sep. He mentioned that 5000+ children have already registered in this program for this year worldwide.
Sarath Veta, Lead ManaBadi Development, mentioned that the program has added 29 new centers this year and has expanded into new states like Nevada, Alabama & Kentucky. The founder of SiliconAndhra, Kuchibhotla Anand requested all Telugu people to participate in this movement to make Telugu language into a true world language. For the past few weeks, ManaBadi volunteers have been busy with the printing and shipping of about 4500 lbs of text books to various ManaBadi centers worldwide. These arrangements were made under the supervision of Santhi Kuchibhotla, Bhaskar Rayavaram, Venu Oruganti, Deena babu Kondubhatla, Danji Thotapalli, Anil Annam, Sneha Vedula, Sridevi Ganti, Nag Yenegandla, Kalyani Siddhartha, Sriram Kotni, Rama Kakulavarapu, PhaniMadhav Kasturi, Jayanti Kotni, Priya Tanugula, Sirisha Chamarthi, and Srivalli Kondupalli. Countless number of volunteer hours have been spent by many regional coordinators, teachers and other volunteers, who are proudly referred within ManaBadi as the "soldiers of the language".
All kids of ages 6+ years, must register before Sept 25th to join in this school year. For ages 4 to 6, they can join anytime during the school year. Visit http://www.siliconandhra.org/manabadi for more details.