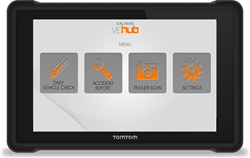 Our easy to use apps all on one device supports high user acceptance.
(PRWEB UK) 18 September 2015
OBS Logistics continues to invest in the development of transport management applications for the TomTom Pro series, and will showcase how they have benefited companies across a very wide range of industries, including delivery of aggregates for the construction industry, a major UK brewer and the transport of blood products for the health service.
Giles Margerison, Sales Director at TomTom Telematics comments: "OBS Logistics is making optimal use of our .connect partner strategy. They have built an app that our TomTom PRO 827x customers will strongly benefit from."
CALIDUS ePOD provides electronic proof of delivery and opens the door to tracking of shipments with live ETA. CALIDUS VEhub is a low cost, easy to use app that captures data to provide an audit trail for vehicle checks and accident management. Launched in 2014 on the TomTom Pro 8275, CALIDUS VEhub has been further enhanced, with additional features such as real time alerts for vehicle checks that have failed, or have not been completed that day.
For the transport industry, which is seeing more use of automation using tablet and smartphone devices, the TomTom Pro 8275 is ideal as it can run several apps from one device making is easier for drivers. Matt Turner of OBS Logistics will be presenting at the conference and commented "TomTom's reputation for ease of use, combined with our easy to use apps all on one device, presents our customers with a winning formula and supports high driver acceptance of new technologies"
Visitors to the conference can see Matt present in the main hall, and visit the OBS Logistics stand for more information.
For further Information, please contact Kathryn Howarth on Kathryn.howarth(at)anisagroup(dot)com
About OBS Logistics
OBS Logistics (OBSL) provides best of breed warehouse management software and transport management software, including hosted solutions, for managing supply chain operations. The CALIDUS Total Logistics solutions are in use across EMEA and AsiaPac to integrate and streamline logistics management processes end-to-end, and provide true visibility across supply chain operations.
About TomTom Telematics
TomTom Telematics is a Business Unit of TomTom dedicated to fleet management and vehicle telematics. Our WEBFLEET platform is a Software-as-a-Service solution – used by small to large businesses to improve vehicle performance, save fuel, support drivers and increase overall fleet efficiency.
TomTom Telematics is one of the world's leading telematics solution providers with now over 450,000 subscriptions worldwide - recognised as the largest in the European market. We service drivers in more than 60 countries, giving them the industry's strongest local support network and widest range of sector-specific 3rd party applications and integrations. More than 32,000 customers benefit every day from the highest level of security, quality and availability of our ISO 27001 certified service.
For further information, please visit http://www.tomtom.com/telematics
Follow us on Twitter @TomTomBusiness