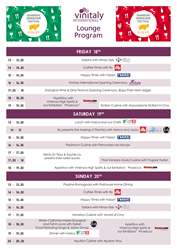 we are now ready to tackle a new kind of event in Shanghai, entirely consumer-orientated, where also food will play an important role.
Shanghai, China (PRWEB) September 16, 2015
Just a few days to go to the first edition of the Shanghai Wine & Dine Festival (September 18-20) where Vinitaly International will be debuting with the largest national pavilion showcasing over 150 labels and a program that has never been quite so rich with events. The excellence of Italian food and wine will be represented for 72 hours in Shanghai thanks to the recruitment of some of the city's top Italian cooks and key players of the local food & beverage made in Italy in what aims to become the most important b2c event in China.
Despite the limited number of wine consumers in other parts of Mainland China, in the last two years Shanghai has seen a noticeable growth favored by the city's strong inclination towards looking beyond China's borders and embracing Western lifestyle.
"After successfully organizing b2b events in Chengdu, Shanghai and Dalian in the past couple of years" explained Stevie Kim, Managing Director of Vinitaly International, "we are now ready to tackle a new kind of event in Shanghai, entirely consumer-orientated, where also food will play an important role. Since it is more approachable by final consumers, it will act as driving force for wine".
During the event Vinitaly International will be present with 22 booths for a total of 17 exhibiting companies including some of the same local Italian wine importers with whom it has collaborated in the past, the first to have a natural interest in fostering a taste for Italian wine amongst local consumers.
The Italian Pavilion will also be featuring a Vinitaly Lounge adopting the same format used during previous b2b events but enhanced by a rich and engaging program:
one of the key moments will be the recruitment of some of the city's top cooks including Top Chef restaurant owner, Jacky Xue, who will team up with US leading chef Brad Turley and prepare typical Italian recipes for all attendees interested in getting to know what Italian food is all about.
Italian regional associations will also be present together for the first time in Shanghai, each showing off a symbolic dish from their region whilst FlatHouse, who have recently become famous thanks to the popular home dining app, Holi Home Dining, will be offering a taste of the real "piadina romagnola".
Additionally, there will be the presentation of two books dedicated to EXPO and a wide range of activities organized by local media partners Vinehoo and Nihao Italy who together with Wines-info and ViviShanghai will be supporting Vinitaly throughout the three-day event.
"The efforts of Vinitaly/VeronaFiere in China are very important and I appreciate Mr. Mantovani's visit" said the Italian general consul in Shanghai, Stefano Beltrame, who will be present at the Opening Ceremony of the Vinitaly International Pavilion together with the CEO of Veronafiere, Giovanni Mantovani. "This is a huge market with enormous potential, but it is also complex and difficult. Those that wish to penetrate it must make significant investments, both monetary and in terms of human resources. In China you can already find wines from all over the world, so the challenge for Italian companies is to spread the word about the excellence of Italian wine and to give China the chance to get to know the best we have to offer. The wine pavilion of the Milan EXPO, which managed to unite Italian producers and present them to the world, and in particular to China, is a perfect example of what can be achieved and what must continue to happen."
The Festival is now almost sold out with 20.000 tickets already purchased and the remaining ones expected to run out soon.
About:
Veronafiere is the leading organizer of trade shows in Italy including Vinitaly (http://www.vinitaly.com), the largest wine and spirits fair in the world. During its 49th edition Vinitaly counted some 4.000 exhibitors on a 100.000 square meter area and 150.000 visitors including more than 2.600 journalists from 46 different countries. The next edition of the fair will take place on 10 - 13 April 2016.
The premier event to Vinitaly, OperaWine (http://www.vinitalyinternational.com) "Finest Italian Wines: 100 Great Producers," will unite international wine professionals on April 9th in the heart of Verona, offering them the unique opportunity to discover and taste the wines of the 100 Best Italian Producers, as selected by Wine Spectator. Since 1998 Vinitaly International travels to several countries such as Russia, China, USA and Hong Kong thanks to its strategic arm abroad, Vinitaly International. In February 2014 Vinitaly International launched an educational project, the Vinitaly International Academy (VIA) with the aim of divulging and broadcasting the excellence and diversity of Italian wine around the globe. VIA has now also created its very first Certification Course with the aim of creating new Ambassadors of Italian Wine in the World.
###