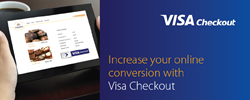 Visa Checkout is an invaluable tool for 3dcart's small business merchants who want to convert their online and mobile shoppers into buyers.
TAMARAC, FL (PRWEB) September 18, 2015
3dcart, a leading web-based ecommerce provider, today announced a program with Visa Checkout to help small businesses launch their online stores. For a limited time, new and existing 3dcart customers can receive a one-month extension toward their hosting plan on their billing cycle when they enable Visa Checkout as a payment service on their website. The program will give small businesses that have not yet tapped into selling online the opportunity to grow their businesses.
Visa Checkout gives consumers the convenience of paying with any major credit or debit card online or on their mobile device just by entering their username and password. Top merchants, including Staples, Fandango, Gap, Neiman Marcus, Pizza Hut, Dunkin' Donuts, Williams-Sonoma and Orbitz, also offer Visa Checkout. As more merchants are announced, Visa is giving consumers more opportunities to quickly and securely pay with Visa Checkout.
"Visa Checkout is an invaluable tool for 3dcart's small business merchants who want to convert their online and mobile shoppers into buyers," said Sam Shrauger, Visa's senior vice president of digital solutions.
3dcart is one of the first ecommerce providers to integrate Visa Checkout as a built-in payment solution for small business. With this offering, 3dcart's powerful platform will help businesses build their online store, and enabling Visa Checkout will allow them to receive a free first month of the 3dcart service.
"3dcart gives retailers all the tools they need to run a successful online business," said Gonzalo Gil, CEO of 3dcart. "And our campaign with Visa Checkout will help small businesses offset the investment to get started, while allowing them to provide the latest digital payments technology on their websites."
For more information visit, http://www.3dcart.com/landing/marketing-visa.html
Visa Checkout: The Easier Way to Check Out
Visa Checkout is an online service from Visa that allows consumers to securely store their shipping and payment information without ever having to re-enter the information when shopping online. With Visa Checkout, consumers can simply enter their username and password, and click a button to complete the purchase.
Since its launch a year ago, more than six million customers have signed up for Visa Checkout accounts. Nearly a quarter million large and small merchants and over 330 financial institution partners now offer Visa Checkout globally. These represent some of the biggest retailers on the internet, including: Staples, Rakuten, Neiman Marcus, Gap, Pizza Hut, Orbitz, and Virgin America.
Visa Checkout is available in 16 markets around the world. These are: Australia, Argentina, Brazil, Canada, Chile, China, Colombia, Hong Kong, Malaysia, Mexico, New Zealand, Peru, Singapore, South Africa, United Arab Emirates, and the United States.
About 3dcart
Founded in 1997, 3dcart is a complete and robust ecommerce platform designed to help e-store owners thrive in a competitive market. With hundreds of features built directly into its software, online merchants can effectively open, operate and maintain a successful online store with relative ease and efficiency. 3dcart currently powers more than 17,000 global merchants, and its support team is always available, at no additional cost, 24/7/365. 3dcart is an Inc. 5000 company, a Visa PCI Certified provider and a pioneer in mobile commerce and social media marketing. Fully scalable and completely customizable, 3dcart continues to be the ecommerce solution of choice by industry experts all over the world.