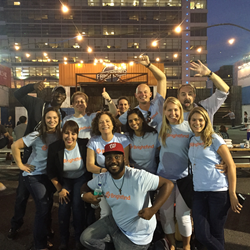 We're proud and happy to be recognized in this way, and it's no doubt because of our outstanding and talented team
Silver Spring, MD (PRWEB) September 17, 2015
Last night, Brightfind was named a winner in DC Fest's Coolest Companies competition by DC Inno. Today, Brightfind team members can be seen zipping around the office on scooters, wearing crowns, and drinking celebratory beverages.
DC Fest is an annual outdoor festival at Half Street Fairgrounds that celebrates life in DC with the city's best food trucks, refreshing summer drinks, games such as bean bag toss, and a firsthand look at the cutting-edge brands and products DC has to offer. Jeff From Accounting, DC's "Best Local Cover Band of 2015," supplied the live music, with music ranging from the 1960's to today.
Every year DC's coolest companies compete for the coveted crowns that accompany the top 10 winners. Brightfind won based on a combination of factors and perks, including an optional condensed work week, flexible work schedules, floating holidays, a culture of volunteerism, and beer:30, a weekly tradition of tasting microbrews from each state, in the order in which they entered the union.
"It's been such a great year for Brightfind!" said Frank Klassen, Brightfind's CEO. "We launched a new brand, increased our capabilities, added new team members, and intensified our focus on being the best provider of digital experiences to our clients - all while intentionally providing an environment where work and personal life can intersect, where every member of the team can be productive, grow, have fun, and still honor their other life commitments. We're proud and happy to be recognized in this way, and it's no doubt because of our outstanding and talented team."
Brightfind is a growing digital design and web development agency based in Silver Spring, Maryland. To view and apply for open positions, visit http://bit.ly/1Kg4bMO.