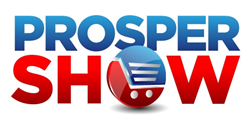 We recognize success as being much more than top-line revenue.
SALT LAKE CITY, Utah (PRWEB) September 17, 2015
To celebrate the entrepreneurial success of Amazon sellers, the PROSPER Show will be selecting US-based Amazon sellers for the PROSPER 25 Award: a special designation given to only 25 young companies that have grown quickly to be efficient, profitable businesses on Amazon, while embracing the outsourcing of key business processes, and solution providers to streamline their Amazon operations.
Full details and application forms can be found at PROSPER 25 – PROSPER invite all US-based Amazon.com sellers to evaluate their business against these unusual criteria that demonstrate the spirit of the successful online seller. The deadline for submission is Friday, November 13, 2015.
Amazon Marketplace co-founder and Managing Director of Alvarez & Marsal Business Consulting, John Rossman, said that "Long-term success of Amazon sellers requires skills in developing profitable topline sales, strong operational performance metrics, and business process efficiency – I'm excited to see PROSPER celebrating this particular breed of entrepreneur."
The winners will be introduced at the PROSPER Show to be held on February 8-9, 2016 at the Salt Palace in Salt Lake City, Utah. This event marks the first time ever that 10+ ex-Amazon business leaders will share their knowledge, insight and guidance with Amazon sellers. They will be joined, as presenters, by the CEOs and General Managers of more than 30 solution providers whose services support Amazon sellers, as well as several large, successful Amazon sellers.
About PROSPER Show
Aimed at Amazon sellers seeking to improve their business processes and profits, the PROSPER Show features workshops and competitive panel discussions on each major business process that an online seller today needs to manage, including inventory/order management, tax collection & remittance, accounting, product reviews, feedback, risk management, re-pricing, and diversifying beyond Amazon.
This conference is ideal for the Amazon online seller seeking to learn how to scale its business more profitably, using best practices for each key aspect of managing an Amazon seller account, including the benefits of business outsourcing and software automation. The exhibitors and sponsors of this event include many of the leading solution providers supporting marketplace sellers today.
Noteworthy speakers at The PROSPER Show will include:

Chris Ducker, #1 best-selling author of "Virtual Freedom", worldwide expert on business outsourcing
John Rossman, co-founder of Amazon's marketplace, and author of "The Amazon Way"
Thomas Plaster, co-launched Fulfillment by Amazon, Prime Partners and Amazon Home Services, currently at Avalara.com
For more information on the full agenda and list of speakers, see here.
This show is not sponsored by or affiliated with Amazon.com LLC or any of its business subsidiaries.